FESTIVAL WATCH | Würst Music And Beer Fest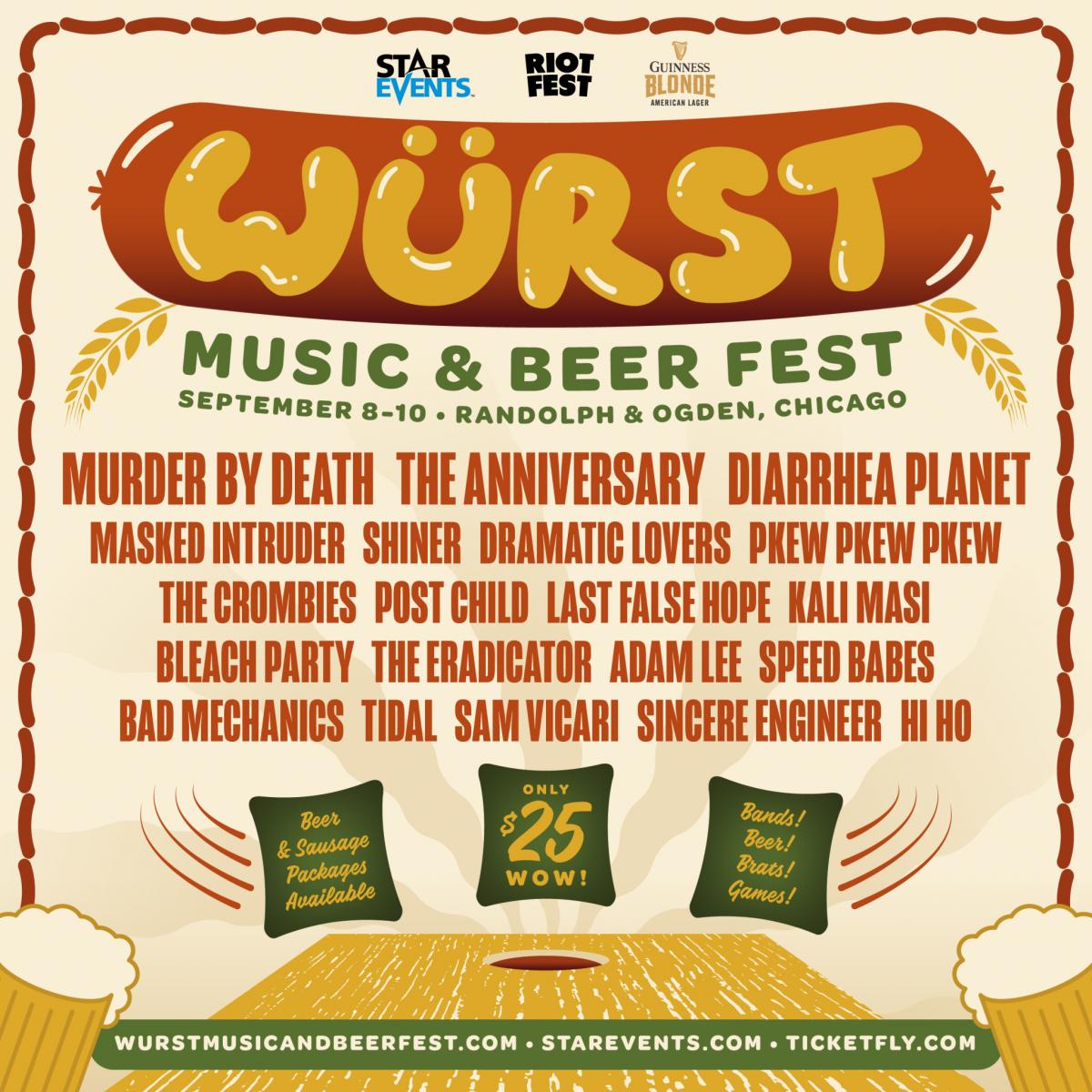 Festival Watch is a Tomorrow's Verse feature where we break down festival news into the facts you need to know.
Würst Music And Beer Fest – September 8-10
Headliners To Watch
Murder By Death – This Indiana band creates a whiskey-drenched blend of dark indie-rock and alternative-country that makes them a perfect fit for the festival. Adam Turla's baritone vocals are met by dark chord progressions and cello, giving a distinct and alluring sound that will stop you in your tracks.
Diarrhea Planet – Nashville band Diarrhea Planet have built a serious reputation in the garage and punk scene. Know for their rowdy, bombastic live shows featuring three screaming guitars, these guys' massive sound is meant for the larger crowds of a festival setting.
The Undercards
Shiner – Post-hardcore band Shiner hasn't played many shows since their breakup in 2003, making this a great opportunity for Chicagoans to catch them. Their heavy, alternative sound has been an influence on countless bands, and guarantees a seriously rocking show.
Local Flavor
Post Child – Indie-rock band Post Child have a classic sound that recalls the genres early days with bands like Built To Spill. The songs are clean, melodic and rock, and I'd expect nothing different from their live set.
Bleach Party – Fitting perfectly with the punk vibes this festival is centered around, Bleach Party are a young Chicago band with a fun, energetic style that should translate perfectly to the festival stage.
You Need To Know
As the festival's name implies, Würst Music And Beer Fest offers Guinness and bratwursts in addition to the music lineup. Tickets cost $25 for the three day festival, with beer and food packages available as well. The inaugural festival takes place at Randolph and Ogden, next to Union Park and Bottom Lounge in the Near West Side.
The Bottom Line
Though the smaller names on the festival stick primarily to punk and emo bands, the bigger names are a definitely pull. With beer and sausage and a cheap three-day ticket price, it's hard to find a complaint.