Review / Photos | Mark Farner and the N'rg Band @ Arcada Theater
By: Lisa Torem | Photos: Philamonjaro Studio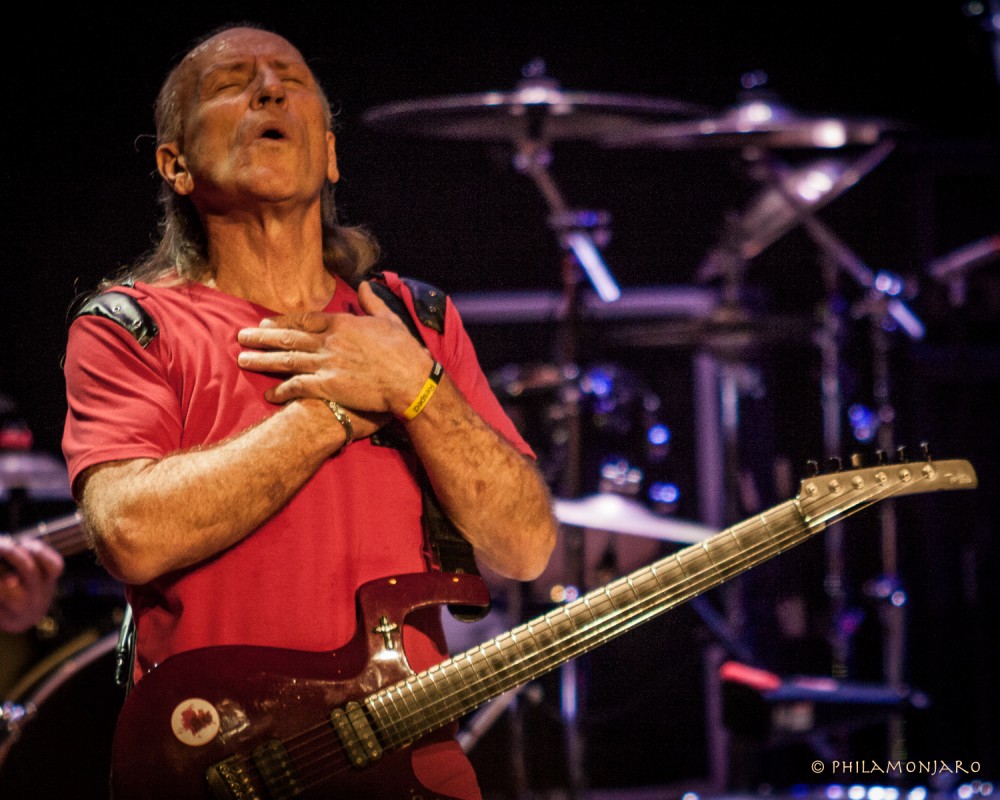 The interior of Ron and Rick Onesti's Arcada Theater catches the eye with its gold-trimmed balcony and rose-colored ceiling, flanked with floating Cirrus clouds. This beautifully restored building once faced the possibility of demolition, yet here it stands, stately and timeless, thanks to the two brothers.
The crowd that waltzes in pay little attention to their ornate surroundings, yet perhaps they have more in common with this beauty than they realize. Perhaps they are also preservationists, though of a different color.  They're here to revel in and celebrate classic rock. Hard rock.
The tradition is that Ron Onesti fires up the audience, although several patrons are already telling strangers about their pasts before he takes the stage, as they eagerly await the Grand Funk front man's appearance. 
"I've seen Mark Farner live five times. He's the man," one animated fan proclaims.
"They'll be rocking hard to all the hits," Onesti promises, flashing a sly smile, before introducing Mark Farner and the N'rg Band. The crowd, after having just seen the energetic singer Monk, is more than amped.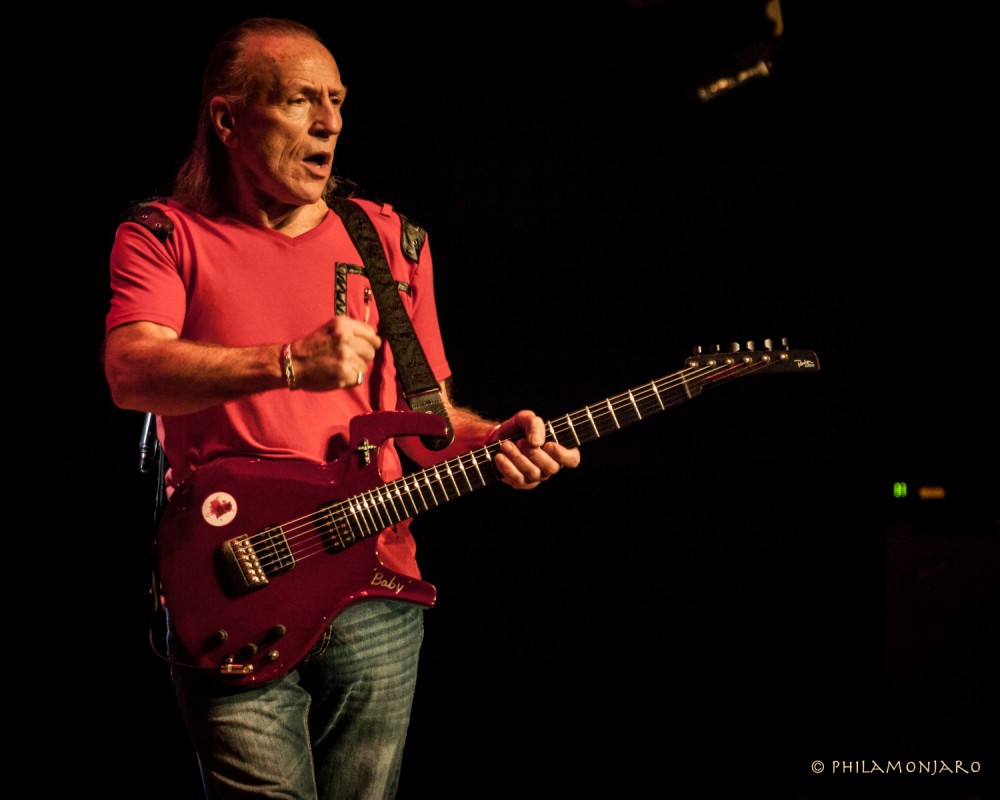 Farner's career began around the mid '60s. He is most well-known for his ferocious lead solos and buoyant vocals in the Grand Funk Railroad, a band which, in its prime, commanded one of the biggest followings in rock. Back then, Farner could be seen bare-chested: his long hair framing his shoulders, as he displayed melodic runs and scratchy rhythms.
Nowadays, modesty prevails. His blood red T-shirt blends well with a cherry-red electric guitar. He's in comfortably faded denim. The wildfire hair still stretches across his blades, though. But when the band performs "Foot Stompin' Music," his body reflects the cool, rhythmic transition with Elvis-like hips.
Switching to the Korg several times, Farner allowed space for Hubert "H-Bomb" Crawford to exploit the full potential of his kit. Crawford, a disciple of the James Brown School, is not easily intimidated by sweeping changes of tempo—his fills were fluid and demonstrative.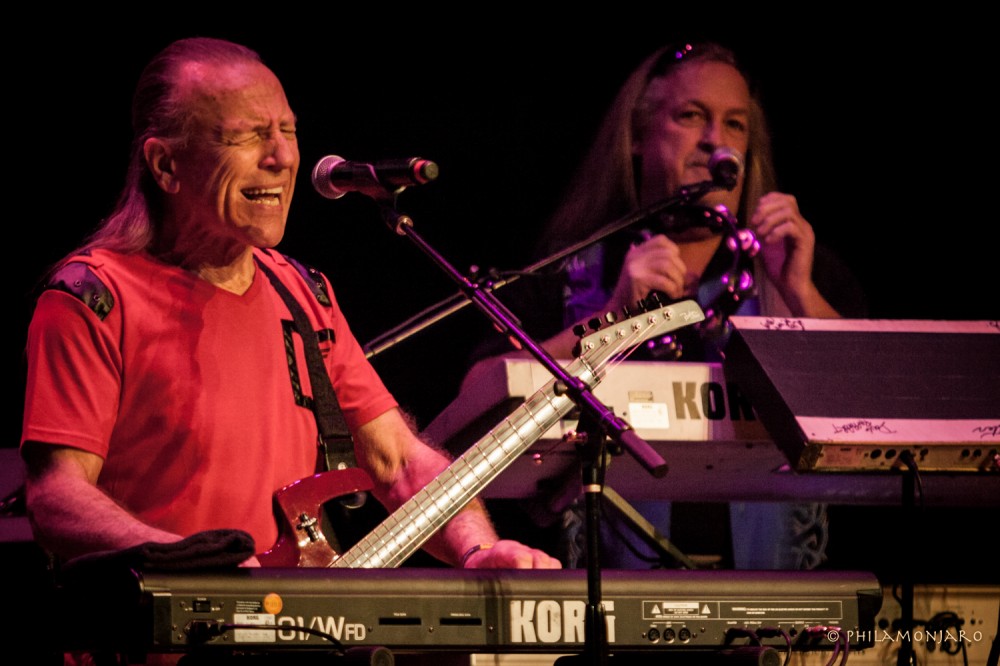 Farner encouraged a variety of moods to surface. He began "Bad Time" with sweet, rubato strums and built up each subsequent verse with heartfelt sincerity. Keyboardist Karl Propst, a pioneer of the contagious, dueling piano craze that runs rampant in Austin and other culturally rich cities, not only shone on double keys, he belted out some extraordinary vocals, especially on fan favorite, "We're an American Band."
Farner pulled out all stops on his guitar, jumping from stylish Wah to chromatic skidding and string deadening, but he also showed off his multi-instrumentalism. Besides his subtle keyboard progressions, he cut loose on the blues harp. And the band demonstrated their ability to harmonize, when they pooled together for Gospel-edged "Shine On".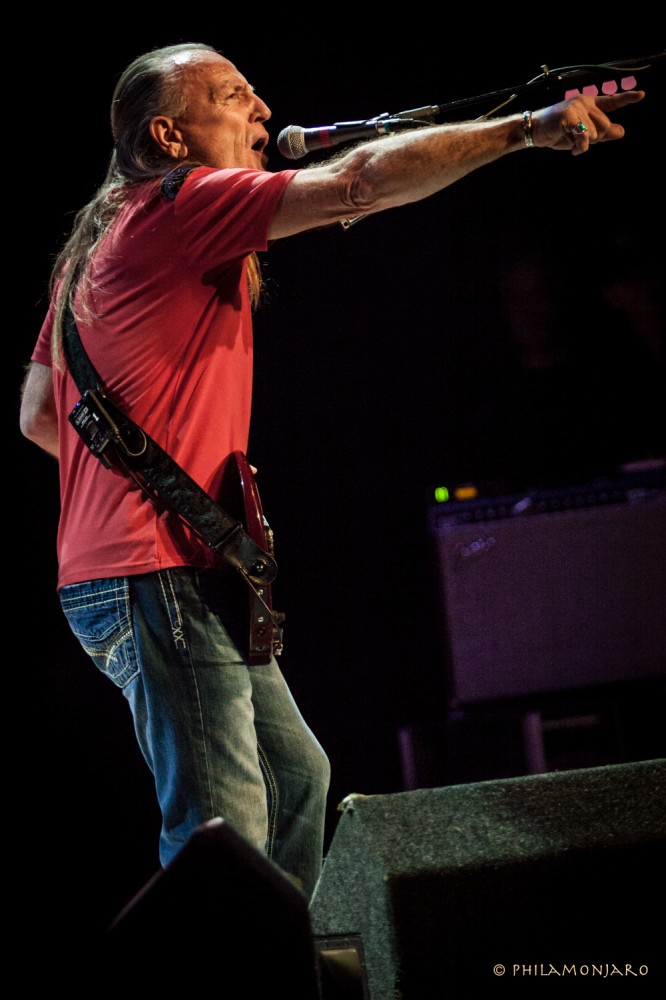 There wasn't time for a full-blown solo, but bassist Dennis Bellinger made sure his melodic bass expertly grounded each tune. His self-assured technique recalled the finesse of early Paul McCartney.
Farner, back on keys, tore down the house with his plaintive rendition of "Mean Mistreated". His present day vocals have lost none of their old-school swagger, and though unrequited love is a frequent theme in balladry, this version reflected genuine emotion, as he bandied back and forth with H-Bomb's blessings.
Farner performed more smooth choreography during "Loco-Motion," the song which shot Little Eva into instant stardom. Legend says that Todd Rundgren knew from the start that Farner's version would also be a hit, as soon as the producer heard him whistle the lilting melody.
"Some people want to turn a blind eye," he said shaking his head, before singing a cover of "Ohio," which was dedicated to the four students shot dead at a Kent State University protest march. The band swung into action with full Americana thrust. Bellinger's bass was spot-on.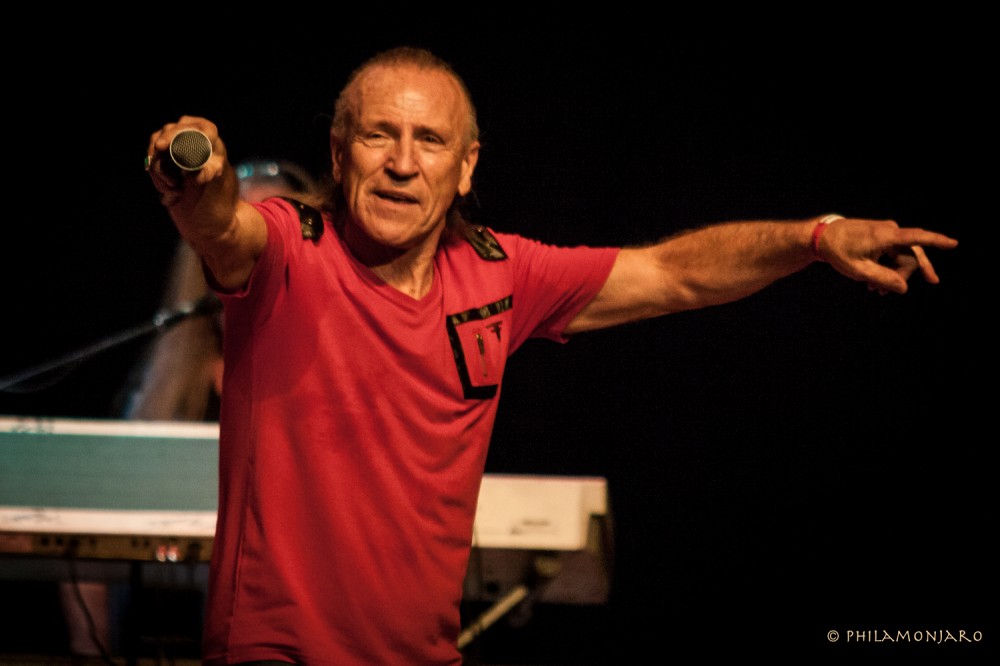 But finally it was time for some interaction. Farner swung the mic towards the front rows and strutted to the infectious rhythms of 'Some Kind of Wonderful". Free of an instrument, he warred with Probst, as the audience joined in on the famous chorus. "H-Bomb" crashed cymbals and made turn-table conversations during his explosive solo. Farner echoed the dynamics on a single cymbal. Bellinger tagged along with a cowbell. As for the moniker, "H-Bomb"? 
"Now you know," Farner grinned.
The crowd rose from their seats to demand an encore. A few had shouted out requests, loudly, during the set. "Paranoid" was one that did not get played.
"Patience," Farner had whispered, after a litany of desired songs were fired off seconds apart.
But the one everybody knew they had to have performed was yet to come. It's become an anthem to veterans all across the world. It speaks of loneliness, alienation, bravery, wistfulness and home sickness. It's a song that can heal the forgotten heart.
"I'm your captain," Farner sang convincingly and as though it were the very first time he had uttered those transformative lyrics. And, surprisingly, after all these years, Mark Farner's signature song still made us feel, unquestionably, "closer to home."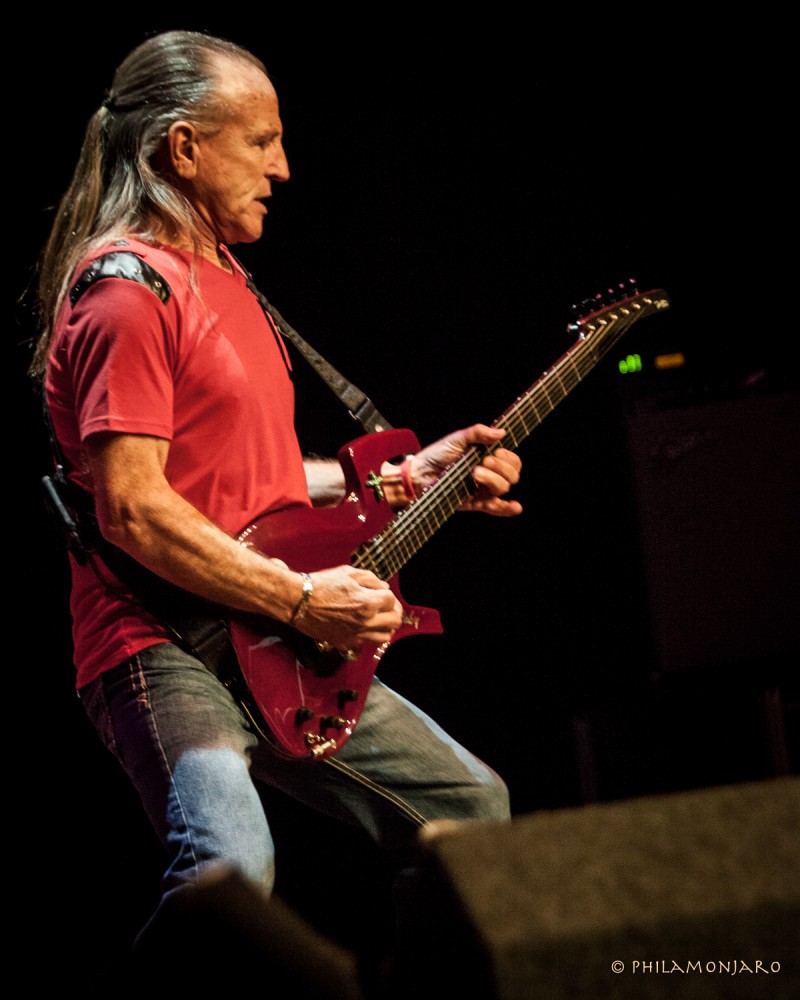 Upcoming Shows at The Acarda Theater
March 3 - Stephen Pearcy of Ratt
March 4 - Uli Jon Roth
March 10 - The Greg Kihn Band
March 11 - The BoDeans
March 12 - Martha Reeves and The Vandellas
March 16 - Simon Kirke Of Bad Company
March 21/22 - George Thorogood & The Destroyers
March 25/26 - UFO With Saxon