Stream Or Download: 7 Walkers @ Lincoln Hall 8/16/12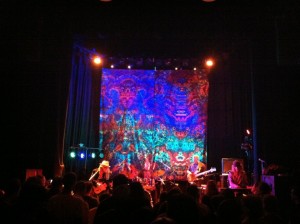 The tone and approach to post-Grateful Dead side projects can sometimes feel like throwing a dart, with individual band members trying to grasp onto one of the many weird and wonderful things that made up the unknowable mystery of the band.  Mickey Hart rolled through town in July with a kind of world-groove cosmic space dance band.  About a month later, his Rhythm Devil partner, Bill Kreutzman joined a band of New Orleans bred musicians for some NOLA-inspired jamming that didn't skimp on extended Dead-style jams, even on Garcia classics like Sugaree, New Speedway Boogie and Bird Song.
Even with the reliance on Dead staples (coming from me, you know that's not a complaint), this band still feels real.  The originals certainly hold up better than Hart's -- and can rival the limited recent output of even Lesh and Weir. +100 points go to any band that can find a beefy role for George Porter Jr. and Papa Mali seems to have dropped from another (New Orleans flavored) world right into this project.  Here's two big sets from the always classy Lincoln Hall from August 16th.
The Stream
[mp3-jplayer = 'Space - 7 Walkers @ Lincoln Hall 8/26/23@http://archive.org/download/7walkers2012-08-16.akg481/7walkers2012-08-16akg481set1t01.mp3,Hey Bo Diddley - 7 Walkers @ Lincoln Hall 8/26/23@http://archive.org/download/7walkers2012-08-16.akg481/7walkers2012-08-16akg481set1t02.mp3,Deal - 7 Walkers @ Lincoln Hall 8/26/23@http://archive.org/download/7walkers2012-08-16.akg481/7walkers2012-08-16akg481set1t03.mp3,DKing Cotton Blues - 7 Walkers @ Lincoln Hall 8/26/23@http://archive.org/download/7walkers2012-08-16.akg481/7walkers2012-08-16akg481set1t04.mp3,Junco Partner - 7 Walkers @ Lincoln Hall 8/26/23@http://archive.org/download/7walkers2012-08-16.akg481/7walkers2012-08-16akg481set1t05.mp3,Someday You'll See - 7 Walkers @ Lincoln Hall 8/26/23@http://archive.org/download/7walkers2012-08-16.akg481/7walkers2012-08-16akg481set1t06.mp3,Sue From Bogalusa - 7 Walkers @ Lincoln Hall 8/26/23@http://archive.org/download/7walkers2012-08-16.akg481/7walkers2012-08-16akg481set1t07.mp3,Birdsong - 7 Walkers @ Lincoln Hall 8/26/23@http://archive.org/download/7walkers2012-08-16.akg481/7walkers2012-08-16akg481set1t08.mp3,Sugaree - 7 Walkers @ Lincoln Hall 8/26/23@http://archive.org/download/7walkers2012-08-16.akg481/7walkers2012-08-16akg481set1t09.mp3,He's Gone - 7 Walkers @ Lincoln Hall 8/26/23@http://archive.org/download/7walkers2012-08-16.akg481/7walkers2012-08-16akg481set2t01.mp3,New Speedway Boogie - 7 Walkers @ Lincoln Hall 8/26/23@http://archive.org/download/7walkers2012-08-16.akg481/7walkers2012-08-16akg481set2t02.mp3,Smokestack Lightnin' - 7 Walkers @ Lincoln Hall 8/26/23@http://archive.org/download/7walkers2012-08-16.akg481/7walkers2012-08-16akg481set2t03.mp3,7 Walkers - 7 Walkers @ Lincoln Hall 8/26/23@http://archive.org/download/7walkers2012-08-16.akg481/7walkers2012-08-16akg481set2t04.mp3,Bottle Up & Go - 7 Walkers @ Lincoln Hall 8/26/23@http://archive.org/download/7walkers2012-08-16.akg481/7walkers2012-08-16akg481set2t05.mp3,Death Don't Have No Mercy - 7 Walkers @ Lincoln Hall 8/26/23@http://archive.org/download/7walkers2012-08-16.akg481/7walkers2012-08-16akg481set2t06.mp3,Hey Now Baby - 7 Walkers @ Lincoln Hall 8/26/23@http://archive.org/download/7walkers2012-08-16.akg481/7walkers2012-08-16akg481set2t07.mp3,Bertha - 7 Walkers @ Lincoln Hall 8/26/23@http://archive.org/download/7walkers2012-08-16.akg481/7walkers2012-08-16akg481set2t08.mp3,Wharf Rat - 7 Walkers @ Lincoln Hall 8/26/23@http://archive.org/download/7walkers2012-08-16.akg481/7walkers2012-08-16akg481set2t09.mp3"]
Download Entire Show (mp3 .zip) via archive.org
Setlist

SET ONE
Space, Hey Bo Diddley, Deal, King Cotton Blues, Junco Partner, Someday You'll See, Sue from Bogalusa, Birdsong, Sugaree

SET TWO
He's Gone, New Speedway Boogie, Smokestack Lightnin', 7 Walkers, Bottle Up & Go, Death Don't Have No Mercy, Hey Now Baby, Bertha

ENCORE
Wharf Rat