Widespread Panic and Dirty Dozen Brass Band: Another Joyous Night Of Joy, The Missing Album
Widespread Panic and the Dirty Dozen Brass Band are each a force to be reckoned with individually.  But, when these thirteen musicians step on stage and let it loose, it is the type of pulse-quickening, orchestrated chaos that can floor audiences and crumble the foundations of the venues that they play.
There are two fine documents of this collaboration: Another Joyous Occasion, the souvenir from the original 1999 tour  and Night Of Joy, cultivated from a three night stand at the Myrtle Beach House Of Blues in 2003.  Yet, so many songs that were performed on the '99 summer tour and at other one-off shows over the years never saw the proper release.
The Barn's mix contains the odds and ends that didn't make the cut of either album, we like to think of it as Another Joyous Night Of Joy.  You'll find both covers and Panic originals, tunes from the Mikey, George and Jimmy years, and a smattering of one-time-only performances than only got rolled out on Halloween or New Years.  There's even some guest vocals from Danny Hutchen's on Makes Sense To Me from Red Rocks '99.
If ever you get a hankering for some Panic and DDBB and feel you've worn a groove into the official release, sit back and enjoy the 28 tracks contained in here.
The Stream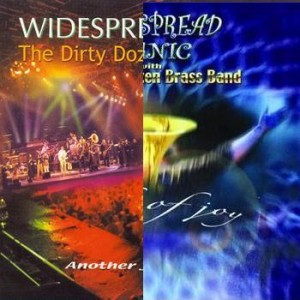 The Track List
Intro 1999-07-27
Ophelia 1999-07-27
Sharon 2001-11-24
Swamp 2001-11-24
She Caught The Katy 1999-06-25
Red Beans 1999-06-29
Just Kissed My Baby 1999-07-16
Vampire Blues 2005-10-31
It's All Over Now 1999-07-21
Pusherman 2000-11-04
Knockin' Around The Zoo 2001-11-01
Joe's Garage > 2001-10-31
Wild Thing > 2001-10-31
Joe's Garage 2001-10-31
Ball of Confusion  2001-10-31
Happy Child 2001-11-23
House Of The Rising Sun 2001-11-23
Red Hot Mama 2001-11-23
Respect Yourself 1999-12-31
Feelin' Alright 1999-12-31
Love Is the Drug 2003-10-31
Time Warp 2003-10-31
Spirit In The Dark > 2005-10-31
I Put A Spell On You > 2005-10-31
Dark End Of The Street 2005-10-31
Nowhere To Run Nowhere To Hide
Makes Sense To Me 1999-06-27
Hope In A Hopeless World 1999-07-27