Full Show Video | Pixies @ Chicago Theatre 10/8/17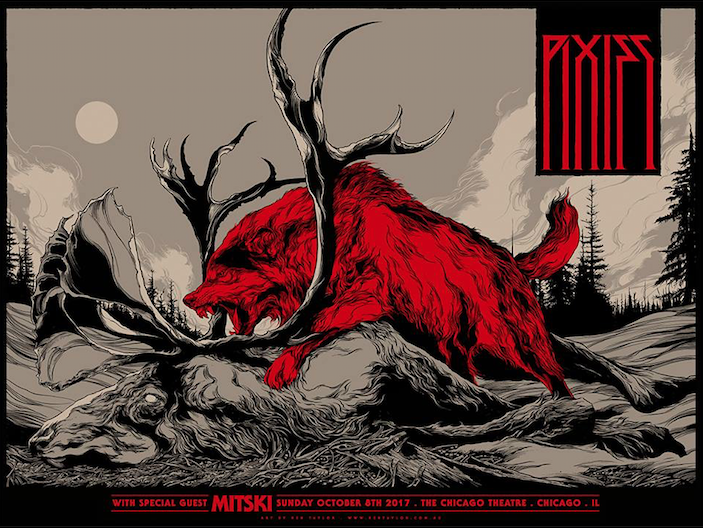 Pixies put on a show like nobody else.
During the first incarnation, the band released an EP and four albums that literally changed the course of music, influencing the alternative and indie genres infinitely, creating songs that quickly became timeless classics.
When the band returned to recording in 2014, reviews were mixed. In truth, this was just the Pixies being as unpredictable as ever, doing whatever they wanted to do.
The best way to dive into the material is, without a doubt, seeing it live.
The band recently played Chicago Theatre, performing more than 30 songs in a set that combined the classics with the new, delivered with the unparalleled energy that fans have come to expect.
When a classic like "Hey" is paired with the newer "Might As Well Be Gone," they both sound like characteristic Pixies, infectious, organic and hard-hitting.
Though highlights of the show remain runs of old material, such as combining "Vamos," "Nimrod's Son," "Where Is My Mind," and "Winterlong" in a heavenly run mid-set, new songs like "Head Carrier" and "All I Think About Now" still shine.
Check out video from the full show below, scroll down for the setlist, and realize that the power of the Pixies never faded.
Setlist:
1. Wave Of Mutliation
2. Classic Masher
3. Bel Esprit
4. Debaser
5. I've Been Tired
6. Isla de Encanta
7. Um Chagga Lagga
8. Monkey Gone To Heaven
9. Cactus
10. Silver Snail
11. Caribou
12. Hey
13. Might As Well Be Gone
14. Head Carrier
15. Something Against You
16. Ana
17. Mr. Grieves
18. Gouge Away
19. Dead
20. All The Saints
21. Here Comes Your Man (unfinished)
22. La La Love You
23. Vamos (with Here Comes Your Man interpolation)
24. Nimrod's Son
25. Where Is My Mind?
26. Winterlong
27. Motorway to Roswell
28. Magdalena 318
29. Velouria
30. Havalina
31. Snakes
32. Wave Of Mutilation
Encore:
33. All I Think About Now
34. Bone Machine