Midweek Meltdown at Cubby Bear Brings The Festival Indoors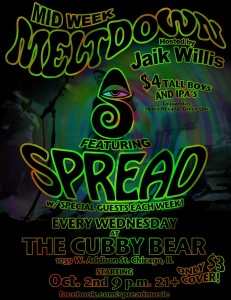 We've reached the end of another festival season here in the Midwest and with each passing year it seems like the variety, breadth and ambition of both major and micro gatherings serve to push festival culture just a little further.  Music lovers know that the festival is a great place to experience new music, but it's also a place to relax, connect and get away.  The setting, arts, food, and activities play a crucial role in making this happen.
Then, as autumn rolls around, it's gone.  But, just in time to chase away the season's end blues, The Cubby Bear plans a series of events, dubbed the Midweek Meltdown, to fill the void on Wednesday nights this fall.
The premise: bring the festival indoors.  The iconic Cubby Bear's expansive layout and facilities should provide ample room for all the accoutrements, including Shakedown Street style vendors and festival food.  Unfortunately, you'll have to leave the coolers at home, but $4 IPAs (Lagunitas, Green Line, and Sierra Nevada) and Tallboys should help remove the sting.
Two acts will anchor each week's festivities.  Your "host" will be the one-of-a-kind Jaik Willis, whose outsized personality and acoustic flying V guitar will be featured on stage and in the crowd. Each night will close with a set by SPREAD, a four piece that has graced many a festival stage with high energy jams.
And just like your favorite festivals, the secret sauce will be in the variety.  The experiment kicks off October 2nd with Brothers Rage providing the support.  A great lineup of local talent will follow (see below for the complete schedule).  Don't be surprised to see special guests and even national acts get the nod in coming weeks.
Anything goes as far as what else to expect: from filmed concert footage on the Cubby Bear's many screens to opportunities to practice yoga, hooping, and other activities.
Admission is only $3, but if you'd like to be added to the guest list, drop us a line with your name and which date you'd like to attend to info @ tomorrowsverse.com and we'll get you added.  Free parking in the lot behind the club!
SPECIAL GUESTS:
OCT 2ND: BROTHER'S RAGE
OCT 9TH: CRUSSIA
OCT 16TH: MANO
OCT 23RD: LAKESIDE COLLECTIVE
OCT 30TH: HERBERT WISER BAND