Music & Lyrics | Widespread Panic Debuts Spring 2015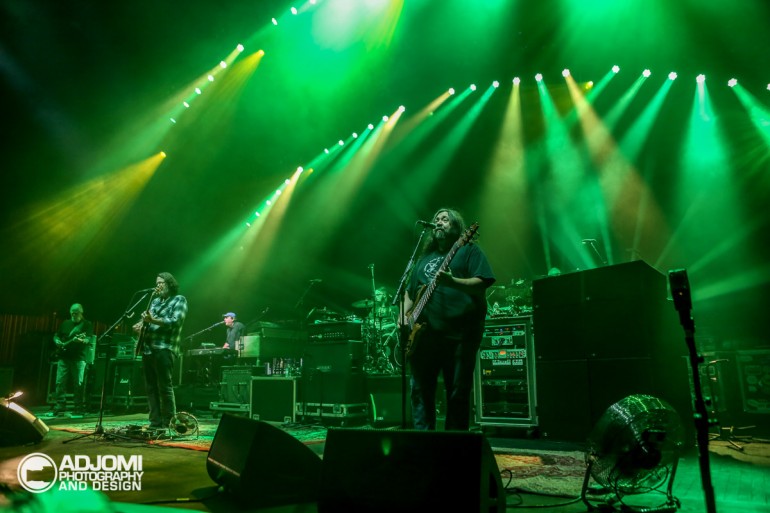 Update 3/30:  Added fifth tour debut... "Steven's Cat"
A personal favorite reward of being a jamband fan:  when a band is working on material in the studio and they head out on the road... the new material starts trickling into setlists.
That's exactly what Widespread Panic has been doing on this spring tour.  First, they dropped a new original ("I Swear It Wasn't Me") this winter at their Panic en la Playa destination "festival" in the Dominican.
On their just over a week old spring tour, they've already let four five new tunes out of the box.  A pair of Jojo tunes ("Street Dogs For Breakfast", "Poorhouse Of Positive Thinking") saw previous life during his solo gigs.
Of the JB led tunes, "Cease Fire" started life way back in '99 as raps / jams that materialized at a few shows.  The 2015 version is a hard driving Panic rocker with a nice bit of inprov tacked on.  "Jamais Vu" is probably the most intriguing -- a slow burn with lots of room for Herring flourishes -- and the debut version has a nice little outro jam that rivals that of "Cease Fire".
The fifth song "Steven's Cat", was a bit more contained in its debut but is packed with some classic Panic firepower.  It was performed first at the second of two nights (3/28) at The Hard Rock Hotel in Las Vegas (which is where the video below was recorded) and then again the following night in Arizona.  There is no easily discernible reference or similarity to Cat Stevens.
I'm collecting the debuts in a quick sampler stream here.  If you'd like to download a zip containing the debuts, scroll on below, and even further for an attempt at some of the lyrics.
[box type="download"]Download Spring Tour 2015Debuts (mp3 .zip)[/box]
Streetdogs For Breakfast
In the alley in the morning
Sun went down on Delancey St.
Said if you're feeling kind of lucky
Then I've got just what you need
Soiled mattress in the basement
Of a Chinese boarding house
Under a clock against the window bars
All the time in the world
Eating streetdogs for breakfast
Whiskey sours for lunch
I'm trying hard to bottom out
To really find myself
Wrecked his old man's convertible
Drove him to an early grave
Now it's back to jumping turnstiles
And stealin' mama's loose change
And eating street dogs for breakfast
Whiskey sours for lunch
Street dogs for breakfast
Whiskey sours for lunch
Sometimes you've got to bottom out
To really find yourself
At the end of the days
A thin man's in the basement
Fending off the zombies
In the Night of Living Evangelicals
And eating street dogs for breakfast
Whiskey sours for lunch
Street dogs for breakfast
Whiskey sours for lunch
Sometimes you've got to bottom out
To really find yourself
Street dogs for breakfast
Whiskey sours for lunch
Sometimes you've got to bottom out
To really find yourself
---
Jamais Vu
Sunrise and mist whisper through my window
The world has changed
Some things we remember
Others they're gonna treat us strange
There's a crow circling high
Three hawks peckin' in the park
All the babies start their cryin' once
Now their laughing at the morning star
We'll wait 'til tomorrow
With luck in our eyes
See it wasn't a dream
We'll get used to the news
Maybe somewhere in between
The familiar just isn't
Even all the moons in the sky
Sunburned at Christmas
It's snowing at the end of July
Closing our eyes
Remember the places we've been
Like old-timey movies
We can watch over and over and over again
That's where we can go to see each other again
I see you there
Look for me my old friend
You can find me
Come find me my old friend
I'll meet you there, my old friend