Setlist, Poster, Stream, & Download: Black Keys @ United Center, Chicago, IL 3/19/12
Updated 3/28/12 with free streaming and download of the entire show!
The Keys' mega-tour swung by Chicago's mega-arena last night on their El Camino Tour. Quite the venue upgrade from their 2010 New Years' Run at the Aragon, and on a Monday!
But the Keys have not shied away from the big houses, embracing the next level sound and lights it affords them. Dan Auerbach recounts his first arena show as a teen to the Chicago Tribune:
"It was the Grateful Dead at Richfield Coliseum and I had no idea what was going on. I didn't know about drugs, the whole culture, the Deadhead thing — my eyes were wide open for four hours."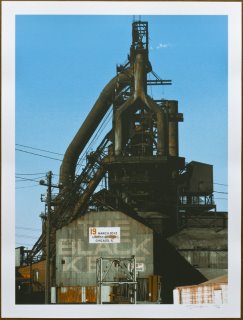 Black Keys
United Center, Chicago, IL
March 19th, 2012
Howlin' for You, Next Girl, Run Right Back, Same Old Thing, Dead and Gone, Gold on the Ceiling, Thickfreakness, Girl is on my Mind, I'll Be Your Man, Your Touch, Little Black Submarines, Money Maker, Strange Times, Chop and Change, Nova Baby, Ten Cent Pistol, Tighten Up, Lonely Boy
Encore:
Everlasting Light, She's Long Gone, I Got Mine
Arctic Monkeys Opened
Daniel MacAdam created the official eight-color silkscreen print, size 17.5 x 23". It features three shades of blue, three grays, rust and black. Handcrafted at the Crosshair HQ, just blocks from the United Center. [via Black Keys facebook]
The Stream