Setlist, Stream, Download: Band Of Horses @ Metro 8/2/12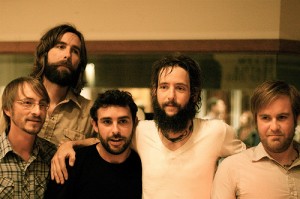 When can a band, who is not even on the Lollapalooza lineup, secure a coveted pre-Lolla gig at Chicago's famed Metro?  When they are the goddamn Band Of Horses that's when.  Here's a set of their unapologetic rock music that adequately prepped festival-goers who were in town before the three day mega-fest earlier this month.
This is a fine showcase of their songwriting, even including a few songs ("Everything's Gonna Be Undone", "Knock Knock") from their yet to be released album, Mirage Rock, due in September.  By the time of the four song encore, which includes stirring, anthemic "Ode To LRC" they had brought down the house.  Play this one loud.
The Stream
Download Entire Show (.zip mp3)
Setlist

Band Of Horse - The Metro - Chicago, IL
August 2, 2012

One Set
Intro, Great Salt Lake, Is There A Ghost, How To Live, Slow Cruel Hands Of Time, Marry Song, Dilly, Laredo, Long Vows, Dumpster World, Compliments, Infinite Arms, Knock Knock, Everything's Gonna Be Undone, No One's Gonna Love You, Part One, The General Specific
Encore
Electric Music, Weed Party, Ode to LRC, The Funeral