Setlist / Review / Stream / Download: Widespread Panic @ UIC Pavilion, Chicago 4/13/13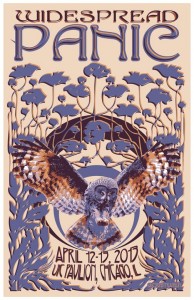 Widespread Panic
Saturday, April 13, 2013
UIC Pavilion - Chicago, IL
One: Heroes, Space Wrangler > Stop Breakin' Down Blues, This Part Of Town, Saint Ex, You Got Yours, Happy, Hatfield, Chunk Of Coal, Henry Parsons Died
Two: Love Tractor > Who Do You Belong To?, Good Morning Little Schoolgirl, Action Man, Jack, Stop-Go, Surprise Valley > Drums > Surprise Valley, Pilgrims > Chilly Water
Encore: Blue Indian, Ophelia > The Shape I'm In
The Stream
[box type="download"]Download Entire Show (mp3 .zip)[/box]
Some thoughts...
Twenty seven years into their career, Widespread Panic has built up quite a songbook. It seems that on any given night a song drawn from just about any year has the potential to be a standout. It's easy to forget that the band so heavily relied just a handful on show-stopping numbers in their early years.
Where Friday's show in Chicago proved that there was plenty of improvisational gas left in the tank, on Saturday Panic settled in and let some on the all time classics do the heavy lifting. It was a show with a decidedly retro feel, where the hits just keep coming and the result was wall to wall smiles.
That's not to say that they sidestepped improv. On the contrary, there's a reason songs like "Chilly Water" and "Space Wrangler" are so beloved. Sure there's something reassuring about material that has stuck around since the 80s, but the band also inserts some compelling free form passages within the bounds of these favorites that are what make those old slippers so damn comfortable.
While Jimmy Herring won't make anybody forget the lingering lead that brought these songs to life, It's also true that "Henry Parsons Died", "Stop-Go" and "Surprise Valley" were all forged from a heavy rock foundry  that really allow his style of soloing to take off and affect the audience. Of all the tunes brought out on night two, only one ("Saint Ex") was debuted in the post-Mikey era, but no matter who is slinging the lead axe, the Southern tender JB vocals on tunes like "Jack" and "Heroes" are time tested and strike at the heart of the emotional connection that Panic fans have.  In particular, "Pilgrims", which was placed oh-so-perfectly in a post drums slot, exploited the delicate / majestic dynamic in the same way that "Morning Dew" did in so many similar positions in Grateful Dead performances over the years.
So how do how do you wrap a show with so much goodwill and positive energy? Taking a cue from the slow-then-fast encore template also employed the previous night, the guys served up more of what the crowd wanted with the slow and anthemic"Blue Indian" before shifting into high gear with a cover of The Band's "Ophelia".  As if to emphasize the keep-the-party-going aesthetic, they doubled down on Band and dropped a surprise "The Shape I'm In" proving yet again that just when you thought that energy levels had peaked, they can bust through that ceiling. As has become custom to complement some of their most blazing finishes, the front-of-house blasted "Burning Down The House" over the PA while the crowd on the floor danced as hard, if not harder than any live performance of the evening... and that's saying something.
Summary: A Panic show which shares a beating heart of some of their peak 90's shows.  I'm typically after something new at each show I go to, but there was just something so delightfully old school about this -- coupled with the home town crowd and sense of community -- that reinforced a sense of meaning that some of these older, established bands can offer, especially coming off of an extended hiatus.  I can't ask for a a better time with some great people -- it was fun to hang with old and new friends alike.  And that's a service that undeniably welcome from events like this.  Great to have you guys back in Chicago.  See you in NOLA (and possibly Milwaukee in the fall?)
Attendance note: Friday's show had the back section of the 200 section curtained off and only a few hundred people on either side of the upper rim.  The entire arena was open on Saturday and, though still short of a sellout, certainly justified the move to the bigger building.