Stream or Download: Earliest Widespread Panic Studio Recordings (Coconut Image & Monkey Image)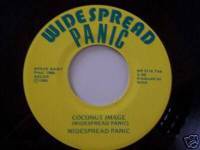 What has got to be  considered the holy grail of Widespread Panic collectibles has made its way onto the music file sharing site Soundcloud.  The 45 RPM vinyl "Coconut Image" / "Monkey Image" was recorded on February 9, 1986 in Arnoldsville, Georgia, not long before the first official Panic gigs whose 25th anniversary marked a year long celebration in 2011.  Only 500 original copies were pressed.
Better known to fans as "Coconut" and "Sleepy Monkey" -- I was never quite sure what signficance "Image" had to either of these song titles -- they are two of the most beloved songs in the repertoire.  And for good reason... even on the early recording "Coconut" leaps up with an unbridled joy and Houser's intricate guitar lines on "Sleepy Monkey" sound pristine and clear.
Also of note, this is a quartet performing on these sides, but not the "original quartet".  Todd Nance was not present for these sessions, so JB, Mikey and Dave were joined by Joel Morris on drums.
Hopefully, these digital copies stay up, since they provide a glorious document of  this important band in its infancy.