Stream or Download: Shemekia Copeland @ Jay Pritzker Pavilion 6/6/13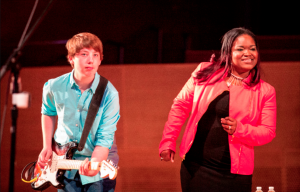 Shemekia Copeland gets a lot of love in the Chicago area. Besides being in constant rotation on WXRT, the blues and soul vocalist was crowned the "Queen of Blues" at the 2011 Chicago Blues Festival.
Copeland's 2013 performance at Jay Pritzker Pavilion finds the vocalist in top form, her live performance boasting more grit and soul than her glossier studio albums ever provide.
Copeland's classic feel stays fresh from the liveliness of the performances, the band and singer keeping energy high throughout. From the funky shuffle of "Giving Up You" to the emotive blues-rock of "Other Woman," the band touches on every corner of rhythm and blues music with expert precision, even bringing southern gospel into the mix with "Stand Up & Testify."
The show features fourteen-year-old blues-guitar prodigy Quinn Sullivan, a previous touring member of Buddy Guy's band and B.B. King collaborator. Sullivan performs on "Pie In The Sky" and "Has Anybody Seen My Man," his ripping solos beefing up the band's sound considerably.
Though good blues may be frequent in Chicago, there's no wonder why the city has embraced Copeland.
- Alex Wood
The Stream
[box type="download"]Download Entire Set[/box]