Widespread Panic Fan's Guide To Milwaukee, 2015 Edition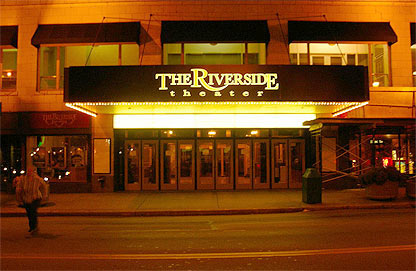 I draped last year's edition of this post with a love letter to the perfect marriage between city, venue, band and fan base that is the annual fall WSP Milwaukee Riverside Theater run.
Feel free to go back and read that for background, but this year there are more pressing matters at hand...
First, this could be the most hyped Milwookie run ever, due in no small part to the extremely abbreviated fall tour (just Milwaukee, Halloween in and a one-off in Akron) and an extremely intimate NYE run back at Atlanta's Fox Theater that may have many Panic Freaks on the outside-looking-in.  A just-announced Winter 2016 tour may have softened the blow, but here's to the hype!
Second, these will be the first shows since the release of Street Dogs which is an unexpectedly terrific album, perhaps even their best since the turn of the century.  While most of the songs have been slowly being worked into the repertoire for months, it wouldn't be surprising to see some of these get more prominent placement and even have entire sets / shows built around them.  There is no doubting the strength of the material, but the fact that the recording comes off as so definitive makes the possibilities all the more intriguing.
Finally, we appear to be winding down the Duane Trucks version of this band.  While last year's MKE run was the first taste I had of the drummer, it was hard to capture what it was that I felt about someone else sitting in that chair.  Founding member Todd Nance will likely be back behind the kit the next time the Riverside gets a show, so this will be a good time to reflect on spirit of a band that kept the flame burning as one of their own was down-but-not-out.  By now, and with some closure ahead, we can celebrate what Duane has done to keep this thing rolling throughout this year.
So, let's revisit what we learned from our Milwaukee expert Andy Cary (@TweeterReprise) last year, updated a bit for this year's experience.  Remember, Andy summarizes all of his recommendations thusly: "Milwaukee is all about drinking. Find a bar."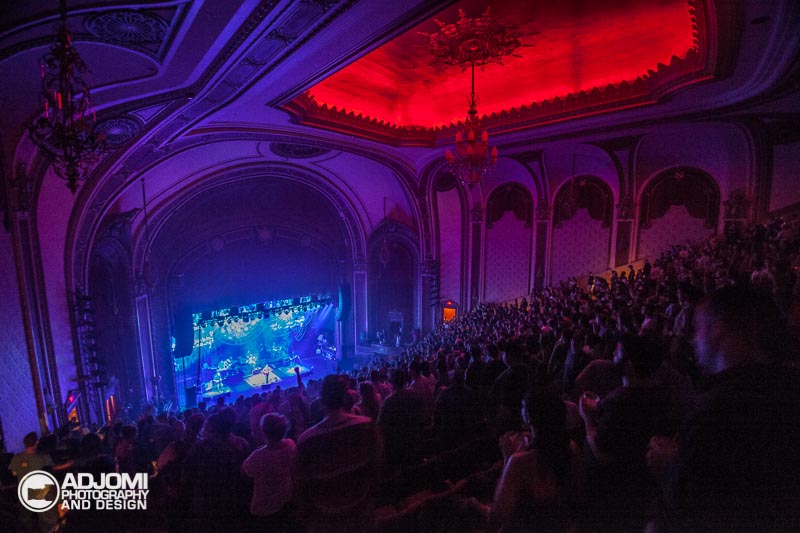 Downtown
The Riverside is situated in just about the heart of town, but there's plenty shaking nearby.  Out-of-towners typically stay within just a few blocks of the venue  Need any food or beverage for the homestead?  Walk a few blocks over to the Milwaukee Public Market for a nice selection of high-end goodies (both prepared and otherwise).
Just east of the Riverside is Mo's Irish Pub.  It is basically ground zero for pre and post Panic activities and can get a bit crowded.  A mini-Shakedown often sprouts up just outside its front door.  Sherman Ewing draws the (typically Jerry Joseph) role of playing post-shows there each night. Andy says, "It's solid pub food and has your typical Irish beers and a few others to choose from. "
He also recommends Swinging Door Exchange, about four blocks away from the Riverside.  "I personally think the food is better. It's a saloon so it's a little divier but it's a good vibe. Try the patty melt."
"Major Goolsby's is the place you want to go to if you want a burger, fries, and draft beer and a football game to watch before the show," Andy says.  It's a quick 5-6 minute walk from the Riverside.  Pro tip:  "There are more TVs in that place than you'll know what to do with. Order pitchers of beer or drinks in bulk because the service can suck."
If you had enough drinks during the show and looking for a bite after.  Try George Webb, a 24 hour diner near the venue. There's also Real Chili, which  is what it says it is: real chili.  Both are rare establishments in the MKE that don't serve alcohol.
Water Street
Looking to get more ambitious and explore beyond Downtown?  Water Street is the closest area of bars towards the venue.
Fire on Water is having Panic after-shows featuring live music (The Barn recommends Fresh Hops on Saturday night...there is also something called the Grateful Dub Band on Friday). "This bar always has Phish and Dead cover bands.  It's a nice spot," Andy says.
I stumbled on AJ Bombers during the 2014 run.  Featured on a Milwaukee edition of Food Wars it has monster burgers, flying bombs with in-shell peanut delivery (don't ask) and a Bloody Mary that has to be seen to believed.
Otherwise on Water Street, check out Duke's for cheap drinks and Rosie's for a good dive. Pro tip: "For the love of God, avoid Red Rocks. It's a shitty country bar with shitty country music and a mechanical bull."
If you're out on Water Street and feel the stomach rumble, go to Ian's Pizza for a slice of mac and cheese pizza.
Brady Street
All of Brady Street is full of bars. You can day drink all day here. Just get dropped off  (about a 7 minute cab  / Uber ride from downtown) and start walking around.
You can start on Saturday morning if you're a soccer fan and need to catch an EPL game.  Head to The Nomad.  From there, just a block away is The Garage/High Hat which Andy describes as "a solid option."
Also check out Club Brady, Jo Cat's, Roman Coin (warning: cash only), or The Up and Under (King Solomon, a reggae band is playing Saturday night).
But Panic fans may appreciate Thurman's 15 most of all.  This bar has a giant painting of Jerry Garcia right when you walk in. The bartender will likely have dreadlocks. "The bathrooms are small, the drink selection is small, and the crowd will be full of wooks, but it's fun to pop into for a beer, the jukebox is great, and everyone here will be in a good mood."  Andy's warns: "cash only unless they got their shit together and welcomed themselves to 2014. "
Two blocks off of Brady Street is the legendary bar, Wolski's. Pro tip: "Stay til closing time and get the ever-present I Closed Wolski's bumper sticker. Fun, schwilly crowd in there. I love this bar."  Also a few blocks away is the smaller venue, Shank Hall. Chicagoans The Steepwater Band play there on Friday and have a sound that is very complimentary to Panic's.  If you hustle, you can probably catch the end of their set.
Hungry when out on Brady Street?  Go to Apollo Café for a gyro or The Dogg Haus for a good hot dog.
What Else?
North Avenue is just like Brady Street, but a few blocks north, appropriately. Tons of other bars and restaurants — Beans and Barley, Hotch Spot, and Hooligans all get Andy's thumbs up.   Hungry out on North Avenue? There's another Ian's Pizza up there.
Bay View is south of Milwaukee and probably best known as the hipster area of town.  Andy says…
What do hipsters like? Good beer and cozy bars. That's what Bay View has. Kinnkinnic Avenue is full of spots to grab lunch, good bears, and some people watching. Café Lulu has a wide lunch menu but no real access for sports viewing . Then there are just a bunch of good bars around, a little more spread out than Brady Street and North Avenue, however. I recommend Sugar Maple, The Highbury, and Burnhearts (one of my favorite bars in Milwaukee).
Milwaukee is Brewtown.  Go ahead and waste your life on the Miller tour if you're into macro-brews.  But closer to downtown and probably a tad more delicious is Lakefront Brewery or Sprecher.  Looking for a local brew that you can't get in the rest of the country?  Keep an eye out for New Glarus (brewed in the Southern Wisconsin town of the same name) — who make some interesting brews including the flagship Spotted Cow.
Not a drinker? There's the Milwaukee Art Museum, The Domes, the Usinger Sausage Store and well…Milwaukee is a drinking town. Find a bar.