Widespread Panic Returns To UIC Pavillion For First Time in 10 Years, April 12 & 13, 2013
The last time Panic announced a two-nighter in Chicago, there was some speculation that they might be the last WSP for some time. Offered as the final shows of the fall 2011 tour amidst heavy rumors of hiatus, the Halloween weekend gigs at Chicago Theater turned out to just be an appetizer, with Halloween night at the Aragon announced soon after, followed by a New Years run, Panic En La Playa (Uno) and the incredible Wood Tour, the band actually went into their break with guns a-blazing.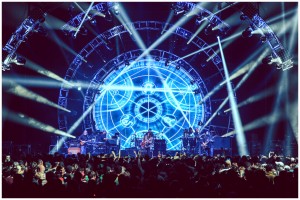 Now, fresh off their 2012 NYE run in Charlotte, another two-night Chicago run is on the books, this time a return to the fabled UIC Pavillion, a venue not played since 2003. They'll set up for a show each night on the weekend of April 12th and 13th as part of a three week spring run..
In the decade since, Chicago has hosted a fine collection of great Panic runs at the smaller Chicago Theater (as well as memorable stands at the Auditorium and Northerly Island Pavilion), so it'll be interesting to see how the band readjusts to the roomier confines of UIC. Will they underwhelm like they did at the venue in '99 and 2000, or parlay their post hiatus momentum to match the arena filling musical spectacle of Halloween 2001?
Photos from New Year's Eve prove the light show is up to the task, let's hope the band is, too.
Tickets are $45 and will be available at 10 a.m. on January 19th. The band is also offering a Tickets for Charity option.
Complete Spring Tour Dates
04-09 St. Louis, MO Peabody Opera House
04-10 St. Louis, MO Peabody Opera House
04-12 Chicago, IL UIC Pavilion
04-13 Chicago, IL UIC Pavilion
04-14 Minneapolis, MN Orpheum Theatre
04-16 Louisville, KY Palace Theatre
04-17 Louisville, KY Palace Theatre
04-23 Columbia, SC Township Auditorium
04-24 Columbia, SC Township Auditorium
04-26 Alpharetta, GA Verizon Wireless Amphitheatre
04-27 Alpharetta, GA Verizon Wireless Amphitheatre
05-03 Nashville, TN The Woods Amphitheatre at Fontanel
05-04 Nashville, TN The Woods Amphitheatre at Fontanel
Rumored: Wanee Festival, weekend of 4/20, New Orleans Jazzfest 5/2Rich Text AreaToolbarBold (Ctrl / Alt+Shift + B)Italic (Ctrl / Alt+Shift + I)Strikethrough (Alt+Shift+D)Unordered list (Alt+Shift+U)Ordered list (Alt+Shift+O)Blockquote (Alt+Shift+Q)Align Left (Alt+Shift+L)Align Center (Alt+Shift+C)Align Right (Alt+Shift+R)Insert/edit link (Alt+Shift+A)Unlink (Alt+Shift+S)Insert More Tag (Alt+Shift+T)Toggle spellchecker (Alt+Shift+N)▼
Toggle fullscreen mode (Alt+Shift+G)Show/Hide Kitchen Sink (Alt+Shift+Z)Insert Form_MakerTypePad emojiInsert WooThemes Shortcode
FormatFormat▼
UnderlineAlign Full (Alt+Shift+J)Select text color▼
Paste as Plain TextPaste from WordRemove formattingInsert custom characterOutdentIndentUndo (Ctrl+Z)Redo (Ctrl+Y)Help (Alt+Shift+H)

The last time Panic announced a two-nighter in Chicago, there was some speculation that they might be the last WSP for some time. Offered as the final shows of the fall 2011 tour amidst heavy rumors of hiatus, the Halloween weekend gigs at Chicago Theater turned out to just be an appetizer, with Halloween night at the Aragon announced soon after, followed by a New Years run, Panic En La Playa (Uno) and the incredible Wood Tour, the band actually went into their break with guns a-blazing.
Now, fresh off their 2012 NYE run in Charlotte, another two-night Chicago run is on the books, this time a return to the fabled UIC Pavillion, a venue not played since 2003. They'll set up for a show each night on the weekend of April 12th and 13th as part of a three week spring run..
In the decade since, Chicago has hosted a fine collection of great Panic runs at the smaller Chicago Theater (as well as memorable stands at the Auditorium and Northerly Island Pavilion), so it'll be interesting to see how the band readjusts to the roomier confines of UIC. Will they underwhelm like they did at the venue in '99 and 2000, or parlay their post hiatus momentum to match the arena filling musical spectacle of Halloween 2001?
Photos from New Year's Eve prove the light show is up to the task, let's hope the band is, too.
Tickets are $45 and will be available at 10 a.m. on January 19th. The band is also offering a Tickets for Charity option.
Complete Spring Tour Dates
04-09 St. Louis, MO Peabody Opera House
04-10 St. Louis, MO Peabody Opera House
04-12 Chicago, IL UIC Pavilion
04-13 Chicago, IL UIC Pavilion
04-14 Minneapolis, MN Orpheum Theatre
04-16 Louisville, KY Palace Theatre
04-17 Louisville, KY Palace Theatre
04-23 Columbia, SC Township Auditorium
04-24 Columbia, SC Township Auditorium
04-26 Alpharetta, GA Verizon Wireless Amphitheatre
04-27 Alpharetta, GA Verizon Wireless Amphitheatre
05-03 Nashville, TN The Woods Amphitheatre at Fontanel
05-04 Nashville, TN The Woods Amphitheatre at Fontanel
Rumored: Wanee Festival, weekend of 4/20, New Orleans Jazzfest 5/2
Path: