Widespread Panic To Offer Free Hearing Protection On Fall Tour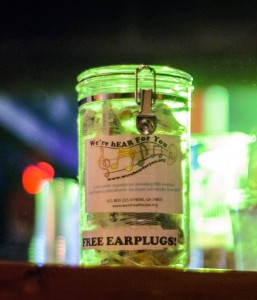 I love Widespread Panic, but man do they play loud.  At times, even absurdly so.  I love to
feel
the music as much as anyone, but it's no fun to have ringing ears for two days after the show.
I know, if it's too loud, then I'm too old.  But if being old is what it takes to acknowledge of the health risks associated with loud music, then I guess even the band is getting up there in age.
For the upcoming fall tour, they are partnering with Georgia non-profit We're hEAR For You, to provide complimentary ear plugs.  Just stop by the merchandise booth and pick up a pair!
Some information on the groups mission:
We're hEAR For You is a 501(c)(3) non-profit organization whose mission is to increase the awareness of noise-induced hearing loss, hearing loss prevention, and the use of earplugs among the music community.

For music lovers & concert-goers alike, it is crucial that we promote hearing loss prevention. We're hEAR For You distributes FREE EARPLUGS to music venues in Athens, Georgia and at a growing number of music festivals nationwide. We also offers FREE HEARING SCREENINGS through the University of Georgia Speech & Hearing Clinic.
Seems like a perfect match -- an Athens based group and Athens' loudest musical export.  I'm glad these guys have hooked up.
Take care of your ears and see you in Milwaukee!