Review / Photos / Audio / Video | Bob Weir @ Chicago Theatre 10/20/16
Photos: Mandy Pichler Photography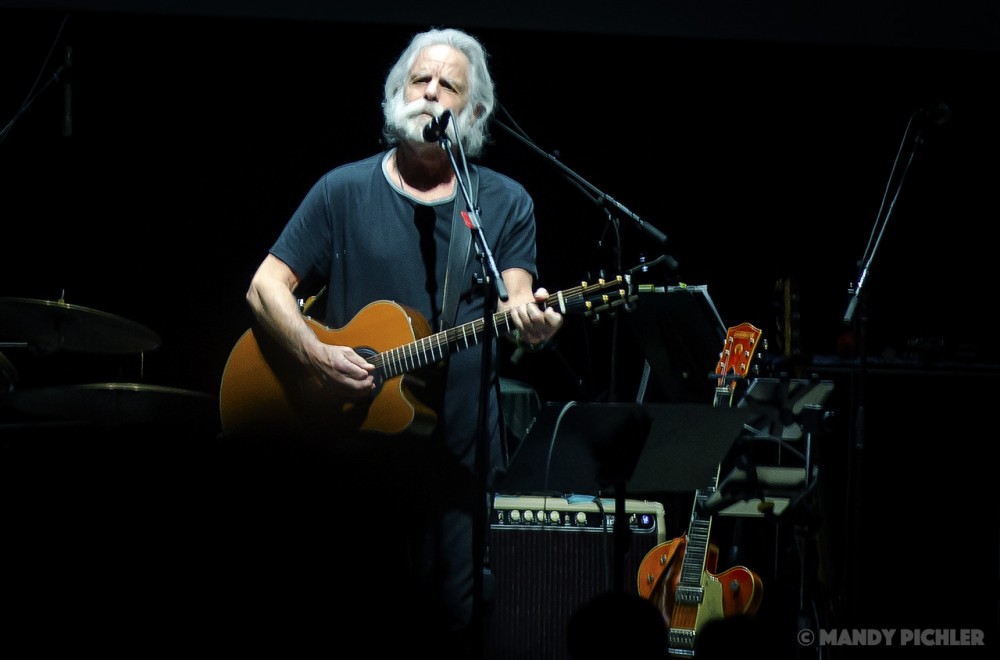 Deadheads have always had reason to love and celebrate Bob Weir.
As author and voice of dozens of our favorite songs, his primary and distinct disadvange in bringing along the rest of the world was sharing the stage with the guy who wrote and sang hundreds of them.
Bob was only 47 years old when Jerry Garcia passed away, and as a creative force in the years since, his primary mission has been to unravel his own identify from that of his friend and brother, while still honoring the importance of Jerry's legacy.
In 2016, we are seeing the fruits of this 22 year process like never before.
Weir's initial vehicle for expression in this mode -- started even before the disolution of Grateful Dead -- has been Ratdog, a project which began as a classic "solo project" (there was no lead guitar player for the first several years) but had morphed slowly and confidently in to one which came to terms wih Bobby's role in the Dead.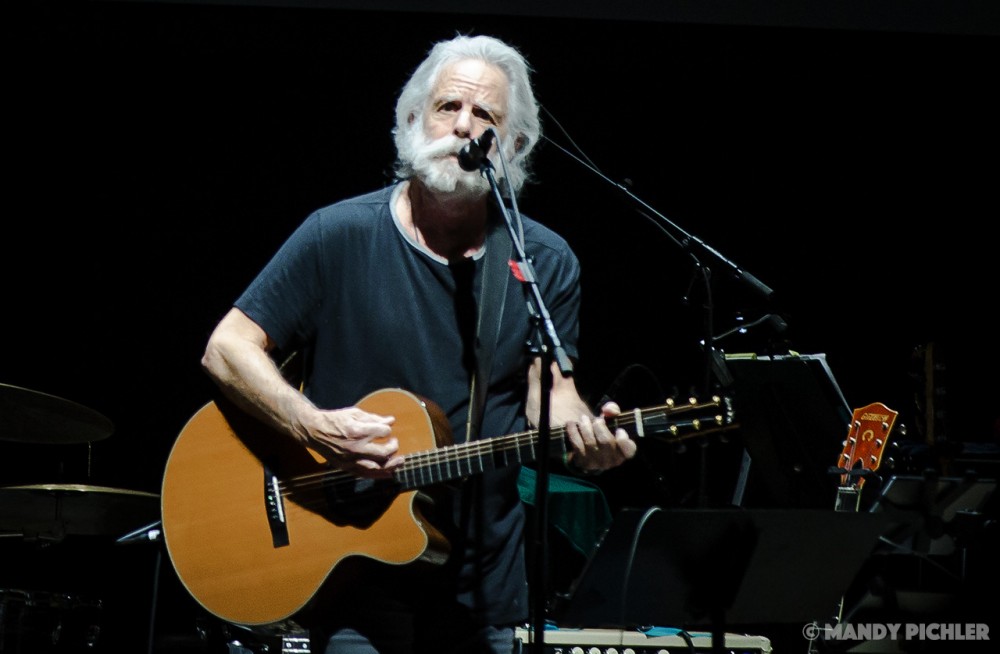 But with limited, uneven material and shifting sense of purpose, Ratdog wasn't exactly a project which brought over new fans, or even rallied the Deadhead base beyond the hardcore Weir-heads.  But it allowed Bobby to continue to lead, to experiment and to cultivate a voice which punctates and adds to his time in the Dead, a process which culminated in last year's Fare Thee Well shows.
He has emerged as not just the misfit, the kid-brother cast against Jerry's benevolent goodness and not-of-this-earth mysticism, but as wizened and iconic in his own right.
And now with Ratdog on the shelf -- there has only one significant tour and a handful of shows iin the last six years -- Weir continues to reinvent, and present, himself through the lens of this still developing persona.
He looks all the way back, pre-Grateful Dead, to his teenage days leading the cowboy life for inspiration on his latest release Blue Mountain.  Its accompanying Campfire Tour made it's way to Chicago, for the final show of a nine show run this fall.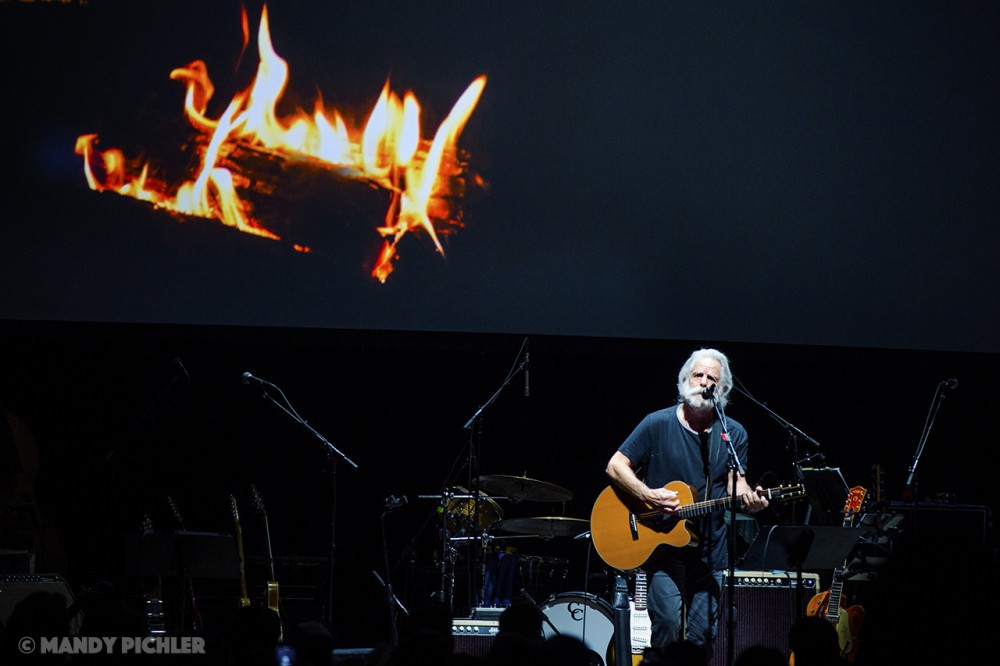 Of course, Bob's still weird.  He's still a misfit.  But on this album and on this tour, he channels that into a voice that even those who previously dismissed his solo work can't ignore.  The tunes are unadorned, cut down to the studs -- the soundtrack for those who chose the cowboy life because they wouldn't quite fit in polite society.  They exist, both as recorded and on stage, out of time and yet firmly tethered to the here and now.
The best of these -- "Gonesville", "Only A River","Lay My Lilly Down" -- each found their way into Thursday's first set.  Like much of the repertoire of Grateful Dead before them, they are part of a folk cycle that started hundreds of years ago and will hopefully extend hundreds more.  Weir explained as much in the intro to "Lilly", evoking a musicology lesson.
Like his guest appearance with Phish just two days prior, Weir seems to imbue the proceedings with a newfound sense of importance, timelessness and tradition.  The cowboy stuff isn't just shtick, it's a way to channel authenticy, and it's resonating.  
There is merit in criticism -- of this and other Weir bands -- that the pace is glacial, plodding even.  But I'm starting to believe that it is at least somewhat deliberate.  The most effective use of this subdued tempo coming during "Most Of The Time," a heavy late(-ish) period song from Bob Dylan, that would challenge all but the most soulful and emotionally resonant singers.  Weir pulls it off.
Remarking on the job of bomb sniffing dogs set out to ensure the safety of Thursday's show, Weir remarked "If we blow up tonight, it's gonna because one of you guys spontaneously combusted."
Appropriate, as the bulk of the second set eschewed most of the cowboy motif (an exception "Another tune from my favorite cowboy, Bob," Weir says before "Masterpiece"), in favor of a straight shot of Grateful Dead (and related) material.
Alternating between his classics and those associated with Garcia, and with the welcome, steadying and, at times, sonically liberating presence of guitarist Steve Kimock, Weir worked through arrangements that fit with his Campfire theme, but reinforced the importance of its connection to the Dead realm.
These two pillars -- a searing inward look at the human experience, and seeking new spaces through improvisational music -- carried the crowd through "He's Gone", "Stella Blue", and "Playing In The Band". before ending appropriately enough, with "Not Fade Away".
Never will our love fade away, but today that message may ring as true as ever for as many different people as ever.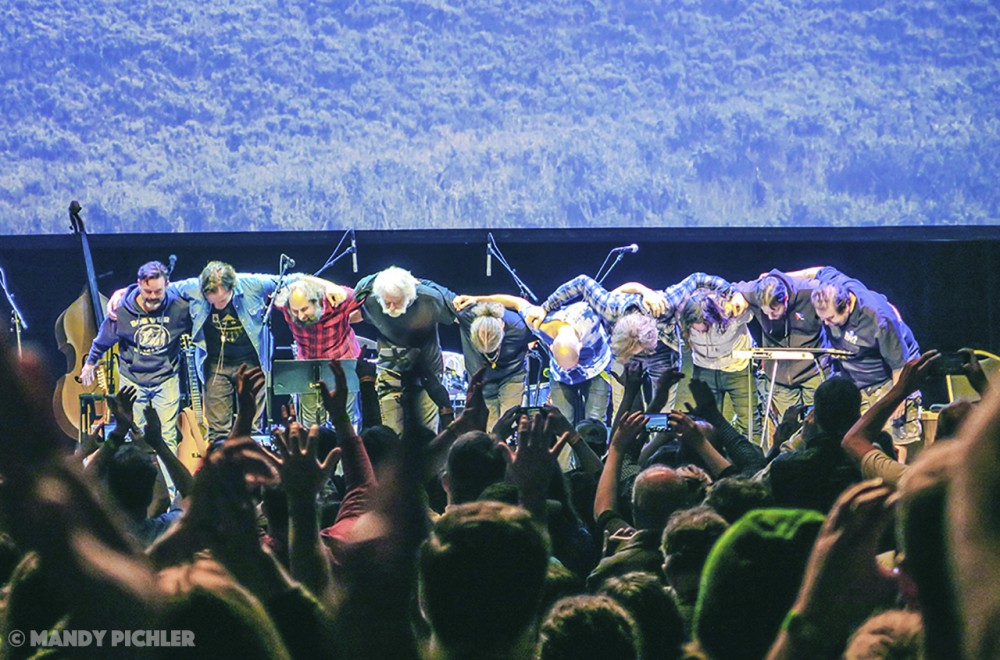 Download Entire Set (mp3 .zip) via archive.org, Jeff Frank taper