The Barn's Furthur Summer 2012 Preview
It's been a short but productive three months since Furthur last took the stage at the Wanee festival in Florida.  But this was no vacation, the most interesting thing going on in the Grateful Dead world was just how busy the band's principals while Furthur was on the shelf.
Of course, Phil has been playing around with his new bar/restaurant/music venue, Terrapin Crossroads, like it's a shiny new toy.  Not only did we see a return of the most beloved Phil and Friends lineup (the Lesh/Haynes/Herring/Barraco/Molo quintet aka Phil Lesh Quintet aka PLQ aka the Q), we saw Phil take the stage with no less than 15 additional configurations, including sets with his sons and the debut of something he calls the West Coast Ramble.  He managed to perform The Band's self-titled album in its entirety, as well as drop Elton John's "Levon" in tribute to his friend Levon Helm.
Not to be outdone, Weir went to work with his own supergroup, playing trio sets with Jackie Greene and Chris Robinson (both were Lesh collaborators during this time as well!) as well as a run of solo and acoustic dates, and sit-ins with Primus and Bay-area funk band Vinyl.
Though not part of the analysis performed in this article, Kadlecik, Russo, Chimenti, Becker and Pehrson also spent the time with projects of their own.
The bottom line.  Each of these bands covered the Grateful Dead songbook and continued to add more to the expanded universe.  Combined, all of the Weir and Lesh fronted ensembles (or solo sets) played a whopping 271 different unique songs in the relatively small break since the last Furthur show.  It will be interesting to see what, if anything, of what Bobby and Phil worked on between Furthur tours will creep its way into setlists or influence performances during this summer jaunt.
Indeed, some new elements are already finding their way into the repertoire.  Furthur took the stage for four "rehearsal" shows at Terrapin Crossroads late last week -- debuting "When Push Comes To Shove", "Hey Pockey Way", "Ballad Of A Thin Man" and "Nobody's Fault But Mine" from the Dead canon. I've analyzed some of the setlists for Weir and Lesh and attempted to present them in ways to reveal the possibilities as one the best Grateful Dead roadshows going attempts to that the music further in July.
Happy touring!  I know I'm looking forward to the Chicago gig.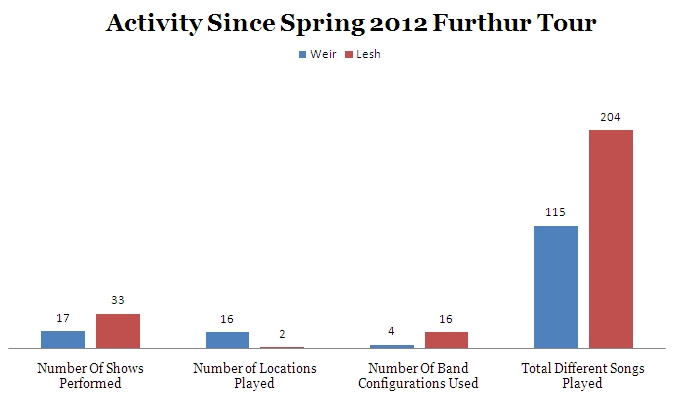 Most Common Furthur Songs Not Played during Spring / Summer solo projects: Born Cross-eyed, Feel Like A Stranger, Standing On The Moon, Reuben & Cherise
27 Grateful Dead-Related Songs Played by Weir & Lesh Projects in 2012, Not Yet Played By Furthur
| | | |
| --- | --- | --- |
| Big Boss Man | I've Been All Around This World | Oh Boy |
| Blackbird | KC Moan | River Deep Mountain High |
| Broken Arrow | Long Black Veil | She Belongs to Me |
| East Virginia Blues | Love Please Come Home | So What |
| Eight Miles High | Man Of Constant Sorrow | Stealin' |
| Glendale Train | Mona | Victim or the Crime |
| He Was A Friend Of Mine | Monkey and the Engineer | Visions Of Johanna |
| Highway 61 Revisited | Mr. Charlie | Wake Up Little Susie |
| How Sweet It Is (To Be Loved By You) | Mr. Tambourine Man | Will The Circle Be Unbroken |
47 Songs Played By Both Weir and Lesh:
| | | |
| --- | --- | --- |
| A Hard Rain's A-Gonna Fall | Friend of the Devil | Playing In The Band |
| Appaloosa | Goin' Down The Road Feeling Bad | Ripple |
| Bertha | Gone Wanderin' | Stealin' |
| Big Boss Man | He's Gone | Sugar Magnolia |
| Bird Song | I Am A Pilgrim | Sugaree |
| Box of Rain | I Know You Rider | Tennessee Jed |
| Brokedown Palace | Jack Straw | The Last Place That Love Lives |
| Brown Eyed Women | Just Like Tom Thumb's Blues | The Other One |
| Candyman | Liberty | The Weight |
| Casey Jones | Loose Lucy | The Wheel |
| China Cat Sunflower | Loser | Truckin' |
| Dark Hollow | Mississippi Half-Step Uptown Toodeloo | Turn On Your Lovelight |
| Dark Star | New Speedway Boogie | U.S. Blues |
| Deal | Not Fade Away | Uncle John's Band |
| Death Don't Have No Mercy | One Bad Love | West L.A. Fadeaway |
| Deep Elem Blues | Peggy-O | |
94 Additional Songs Performed by Lesh & Weir Projects (will they find their way into the Furthur repetoire?):
| | | |
| --- | --- | --- |
| A Day In The Life | I Am The Walrus | Rockin' Chair |
| A Whiter Shade Of Pale | I Don't Live In A Dream | Sail On Sailor |
| Acadian Driftwood | I'm Not Who I Was | San Francisco Rain |
| Across The Great Divide | Into The Mystic | Sense |
| Ain't Broke but I'm Badly Bent | It's Only Rock and Roll | She Said She Said |
| And It Stoned Me | Jailhouse Rock | Sigh No More |
| Appaloosa | Jawbone | Sitting In Limbo |
| Artificial Flowers | Jemimah Surrender | Some Day Past The Sunset |
| Back Down South | Josephine | Street Fighting Man |
| Behind That Locked Door | King Harvest | Sunday Sound |
| Blowing In The Wind | Landslide | Sweet Somewhere Bound |
| Broken Arrow | Let It Ride | Tell Me Mama Tell Me Right |
| Call Me The Breeze | Levon | The Dolphins |
| Carey | Look At Miss Ohio | The Last Place That Love Lives |
| Darlin' Be Home Soon | Look Out Cleveland | The Long Road |
| Dazed and Confused | Lorene | The Night They Drove Old Dixie Down |
| Deep River Blues | Lost My Driving Wheel | The Real Thing |
| Devil Take Your Mind | Low Spark Of High Heeled Boys | The Winners |
| Do Right Woman | Midnight Rider | This Wheel's On Fire |
| Down In The Valley Woe | Never Satisfied | To Heaven |
| Easy to Slip | Night Of One Thousand Stars | Turn Turn Turn |
| Fallin' | No Expectations | Twilight Time |
| Festival | Old Coast Highway | Unfaithful Servant |
| Fire and Rain | Old Man | Up On Cripple Creek |
| Folsom Prison Blues | One Bad Love | When You Awake |
| For What It's Worth | One Empty Rose | Whispering Pines |
| Free | Patchwork Quilt | Who I Was |
| Goin' to Alcapulco | Poor Elijah | Winter Hours |
| Gone Wanderin' | Rag Mama Rag | You Can't Do That |
| He Was A Friend Of Mine | Reflections On A Broken Mirror | You Don't Miss Your Water |
| I Ain't Broke but I'm Badly Bent | Revolution 9 | |
| I Am A Pilgrim | Rivers & Roads | |