Furthur's John Kadlecik Lends A Hand At Helping Phriendly Orchestra - Martyrs 11/21/13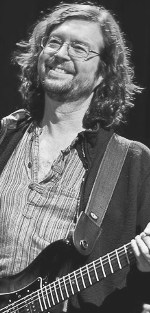 John Kadlecik is no stranger to the Martyrs stage.  He played there weekly as a member of Dark Star Orchestra in the early days of that band.  Back in town for two scheduled Chicago gigs, tonight's ambitious Top Of The Tower Jam and Saturday's solo show back at the North Side club, the Furthur guitarist popped in for an unannounced sit-in with a band that he served as an inspiration for.
Helping Phriendly Orchestra is the Chicagoland tribute band that aspired to do for Phish's catalog what DSO did for the Dead's: recreate shows in their entirety.  Although recently they've been playing "dream sets" of their own choosing, the band returned to the entire show concept last night, tackling Phish's performance at New Haven's Palace Theater from December 28th, 1992.
John K. sat in for "Bouncing Around The Room" in the first set.  UPDATE (1/6/14): Audio has emerged on archive.org
The setlist (via phish.net)
Monday, 12/28/1992
Palace Theatre, New Haven, CT

Soundcheck: Diamond Girl, Punch You in the Eye, Dog Log, Shaggy Dog, AC/DC Bag (x2, slowly)

Set 1: Maze, Sparkle, Foam, Buried Alive > Glide > It's Ice > Bouncing Around the Room > Rift, Golgi Apparatus, Sweet Adeline[1], Run Like an Antelope

Set 2: Poor Heart[2], Split Open and Melt, Reba, The Sloth, You Enjoy Myself > The Lizards > Hold Your Head Up[3] > Bike > Hold Your Head Up, Harry Hood[4], Cavern

[1] Without microphones.
[2] Reference to food.
[3] Vocal jam based around the word "Xanadu."
[4] Two Simpsons signals and a Random Note signal in intro; reference to food.

Teases:
· Guy Forget and Contact quotes
· Theme from Star Trek tease in Bike