FESTIVAL WATCH | Oaktoberfest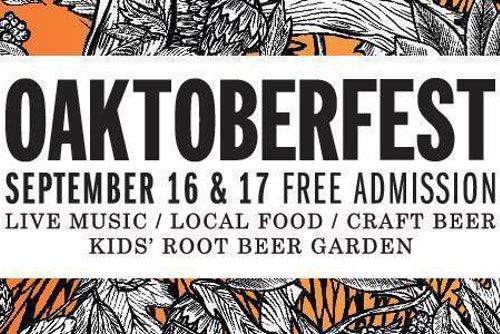 Oaktoberfest – September 15 & 16
Headliners To Watch
Monophonics – California five-piece Monophonics have a sound described as "psychedelic soul." The lush arrangements of songs bring to mind Marvin Gaye, but the effects-drenched guitar and sprawling compositions have a 60s psych touch. With a unique, bass-driven sound with plenty of energy, these guys are set to bring a good time to the festival.
Uncle Lucius – Coming from Austin, Texas, Uncle Lucius has a classic sound, blending folk-rock, country and classic-rock into a bluesy, heartfelt whole. A soulful vocal delivery and powerful backing band make these guys rise above the rest.
The Undercards
Dead Horses – Folk duo Dead Horses have a timeless sensibility, with country-inflicted vocals and acoustic instrumentation. The songs are warm and inviting, a beauty throughout that really sucks you into the songwriting. Fans of bluegrass and folk won't want to miss these guys.
Motherfolk – Ohio-born Motherfolk have an indie-rock style that relies on catchy melodies and simple rhythms, not far from the likes of The Lumineers. Pop meets folk to make these guys a tough band to dislike, and a great festival choice.
Local Flavor
Ifficial Reggae Movement – This Chicago band performs a straightforward style of reggae music that seems to be lacking too often in today's scene.
Smiley Tillmon Band - A recent addition to the Chicago music scene, the Smiley Tillmon Band play an authentic form of Chicago blues, done right.
You Need To Know
The festival is completely free, taking place over a Friday and Saturday in downtown Oak Park. Featuring "fall foods" from local restaurants and a variety of craft beer options, the festival is a great way to celebrate the changing of seasons.
The Bottom Line
The music lineup, presented by Harmonica Dunn, features an eclectic lineup of underrated artists. With no charge for admission, the festival is a great way to find new artists you love while enjoying the fall weather.
The Full Lineup
Friday, September 15
8:30-10:00 – Monophonics
6:30-8:00 – Lady Wray
4:30-6:00 – Dead Horses
Saturday, September 16
8:30-10:00 – Uncle Lucius
6:30-8:00 – Motherfolk
4:30-6:00 – Antony and the Tramps
2:30-4:00 – Ifficial Reggae Movement
12:30-2:00 – The Smiley Tillmon Band