Review: Monophonics / Bumpus @ Martyrs' 9/11/14
Apparently, Chicago Would In Fact Like 'Da Funk' – Bumpus & Monophonics At Martyrs'
By: Brian R. Brinkman - @sufferingjuke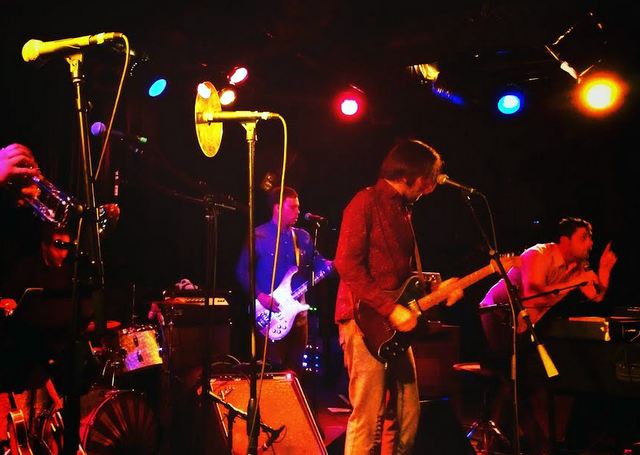 On the first chilly night of fall, Martyrs' hosted a four-hour funk/soul expose featuring Chicago's own Bumpus, and the San Francisco outfit, Monophonics. Proceeds from the event went to the tattered souls that packed venue, each clearly in need of some deep, rich F.U.N.K.
That the syncopated grooves, throwback soul-vibe, and robust onslaught of brass warmed those who braved the season's first cold night goes without saying. Both Bumpus and Monophonics feature technically sound musicians who have a clear appreciation and understanding for the music they're inheriting, crafting, and emulating. These are no faux-James Brown cover bands. This is not your college stoner-bud's jammin' out to "Da Funk."  This isn't '97 Phish wanking out in the middle of a 30-min "Wolfman's Brother."
Bumpus and Monophonics are, instead, funk, soul, groove, doo-wop, and lo-fi nerds and junkies alike. They live and die by the groove. They honor it. They are each, in their own right, incredibly skilled and deft in finding the pocket, locking in, and making you move.
Prior to the show, I sat down with Ian McDonald, Kelly Finnigan, and Myles O'Mahony of Monophonics, where our conversation quickly shifted from logistics of the band's origins and their current tour, to a serious historical walk through the process of crafting an authentic funk/soul/passion/groove record.  Finnigan brought up Gabriel Roth's funk manifesto, Shitty Is Pretty, as a sort-of DIY guidebook to construct a funk band and properly record a funk record.
The atmosphere is key; Monophonics recorded their most recent record, 2012's In Your Brain, in Finnigan's San Francisco basement. Reminiscent of Big Pink and Keith Richard's Southern France Chateau hideaway, Finnigan's home-built recording studio catered to the band's pursuit of that warm, distantly familiar lo-fi sound that was lost in studio recordings throughout much of the last three decades. I spoke with the trio at length about their musical influences, their varying approach to the tour and recording, what's next for the band, and their thoughts on playing in Chicago again (a full-transcript will run on The Barn later this week).
As for the show, Bumpus immediately brought one question to mind for me as a listener: what the fuck was this band doing opening for anyone??? For me, a band like Bumpus is case-in-point why I moved back to Chicago. Sultry and tight and soulful and groovin' and a direct lineage and testament to the hard-working nature of the Chicago music scene. Much like Monophonics, Bumpus was inspired by the kind of technically imprecise recordings that emerged from the lo-fi funk scene in the 70's, which emphasized soul and boogie rather than worrying about technical nuances.
Specifically, Sly & The Family Stone's Fresh connected with each member on an individual level. Since their formation, nearly a decade ago band has developed into one of the most reliable live shows in Chicago, and one that is sure to raise your faith in humanity simply through their interconnected melodies and on-a-dime breakdowns. At one point, the Chicago Historical Society named Bumpus as the band that "best represented the contemporary [Chicago] music scene, similar to what The Beatles did in their early days in Liverpool and Hamburg." Check them out. Stat.
The first time I saw Monophonics was in a converted Victorian Mansion on a cliff overlooking the Pacific Ocean in Caspar, California. I'd just finished a stint on a farm about an hour away, and this was to be the parting evening I'd spend with my fellow farmers before heading back into reality. That night, the band hit me and my friends on the kind of level one can only dream of experiencing in a live music setting. Their connectivity was iron clad, their music was dripping with soul, Finnigan made it a personal mission to connect with every single person in the room.  Their songs resonated in a uniquely personal and wholly transferrable way. In short, it was one of the peak live music experiences I've ever had, one that's stayed with me for the past two years.
Not a single one of us left the venue that night without their album in tow.
If there's anything negative that can come from a first impression such as this, it's the risk of the band not living up to your memory the next time you see them. In the minutes before Monophonics took the stage on Thursday this thought passed through my mind a number of times. I'd brought my brother, my wife, and a buddy along - three people whose musical opinions I value above most others - to see the band, and quietly feared I'd built them up too much.
What if my memory had been someone overly-enhanced that night? What if the band I saw simply wasn't the same band anymore? What if I was wrong and Finnigan didn't reach out and grab my soul in the way I remembered? What if, they just weren't as powerful as I claimed they were.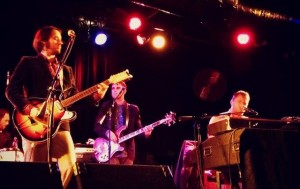 By the time Monophonics finished their opening couplet of "Looking Ahead" -> "There's A Riot Going On" it was clear I'd not only properly built the band up, I'd perhaps underrated them a bit within my memory.
To be blunt, the band tore the room apart, lifting people from their seats and collective slumber, transforming Martyrs' from a room of curious individuals to one filled with a collective of devoted followers.
Throughout their 90-min set, people were converted by the ever-present groove in their music, and the sharp interconnectivity that was elevated only by the band's clear confidence in their performance. After nearly 250 shows in the past two years, it's clear Monophonics is more than simply a young funk outfit from San Francisco with a hint of promise. This is a professional band of musicians that are at the forefront of a viscerally important musical amalgamation process.
Offering up a range of new songs while playing about half of In Your Brain, all the while tossing out a perfectly-executed cover of Aretha Franklin's "Baby, I Love You," the set displayed the growth of the band, while highlighting the essentials allow them to create such an addictive live show. Encoring with their internationally renowned cover of Sonny Bono's "Bang Bang," the band, for a moment, displayed the potential they have to develop into a seasoned jamband, coupled with resounding cheers from the audience, and responding with a taut take on the oft-covered song.
Promising to be back in Chicago within the next year, one can only hope that when they do return, they're welcomed with an even larger crowd. For as they displayed on Thursday night, their sound is neither imitative, nor is it simply nostalgic.
Monophonics is the rare band that, in reaching back into the historical records of rock music, have cultivated something fresh and forward-pressing, all while being intimately familiar. That this is as necessary in modern music as it is addicting is all the reason one needs to get themselves a copy of In Your Brain and make a point to experience Monophonics live.