Photos / Video / Setlist | Mavis Staples Brings Star Power To The Vic
By: John 'Nunu' Zomot
While the snow came down on a Superbowl-Eve, the music heated up at a packed Vic Theatre for Mavis Staples' appearance in front of her hometown Chicago crowd.
And the love was flowing both ways.
Sliding through a fourteen song set that touched on a couple songs each from her recent Jeff Tweedy produced LPs, there were nods to her Staples Singers career and an all-out cover of Talking Heads' "Slippery People".
But throughout it all, there was that powerful voice and 200 Watt Smile.  We're lucky that Nunu was on hand to capture this show from all angles, backstage and out and in the crowd.  The smiles certainly were not confined to the performers.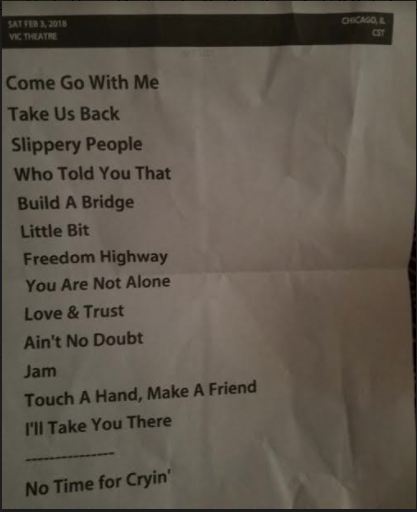 Full Gallery (click on thumbnail to see full versions)