Chicago Jazz Festival Announces 2016 Headliners, Featured Performers
By: Alex Wood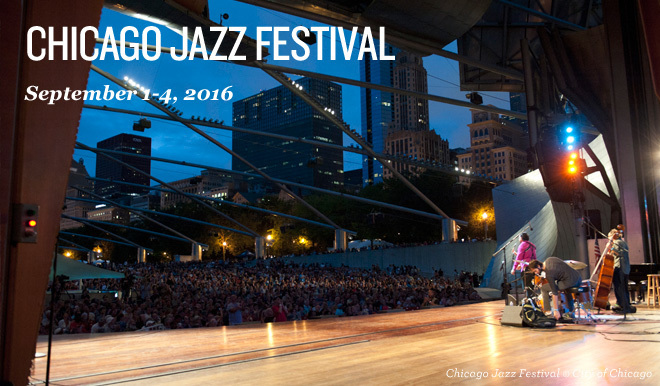 Chicago Jazz Festival released its 2016 lineup and there's a lot to look forward to for all music fans.
The festival, which takes place at Millennium Park September 1-4, is entirely free to attend and will feature more than 40 artists at various locations around the park.
Headliners for the festival will be Orbert Davis, Benny Golson, Anat Cohen, The Bad Plus, John Scofield and Joe Lovano, Candido Camero, Steve Turre and Nestor Torres.
Chicago trumpeter Orbert Davis will debut a new piece titled "Soul Migration" on Thursday night, while Friday will feature the Liberation Music Orchestra celebrating the music of their recently deceased band leader, double-bassist Charlie Haden.
Saturday will feature post-bop jazz trio The Bad Plus performing Ornette Coleman's Science Fiction in full with the help of Tim Berne and Sam Newsome on saxophones and Ron Miles on trumpet.
Sunday's highlights include guitarist John Scofield performing with the Joe Lovano Quintet, followed by a collaborative performance celebrating the 95th birthday of Cuban percussionist Candido Camero, featuring Candido along with nine other Latin musicians.
Other notable performances include experimental Chicago drummer Charles Rumback performing with a sextet on Sunday. Rumback is known for his eclectic projects in varying styles.
Also of note is Evanston's Chris Greene Quartet, who will bring their traditional-yet-challenging saxophone-led compositions to the festival on Saturday.
As a free festival packed with talented names, this years Jazz Festival is surely not one to be missed.
Read the full schedule below.
THURSDAY, SEPTEMBER 1:
Chicago Cultural Center – Claudia Cassidy Theater
Noon – 1 p.m.: Dan Trudell Trio
1:30 – 2:30 p.m.: Eric Schneider / Pat Mallinger Quintet
3:00 – 5:30 p.m.: Charlie Haden – Rambling Boy (film & Q&A)
Preston Bradley Hall
12:30 – 1:30 p.m.: Mwata Bowden's One Foot In, One Foot Out
2:00 – 3 p.m.: Louder Than A Bomb Presents: The Bomb Squad
3:30 – 4:30 p.m.: Cameron Pififfner's Adolphe'S AX
Millenium Park – Jay Pritzker Pavilion
6:30 – 7:30 p.m.: Brown In Bronzeville Efect with Maggie & Africa Brown
8:00 – 9 p.m.: Orbert Davis' Soul Migration – Commmissioned for the Great Black Migration Centennial Celebration
FRIDAY, SEPTEMBER 2:
Millennium Park – Von Freeman Pavilion (South Promenade)
Noon – 12:55 p.m.: James Sanders Proyecto Libre
1:10 – 2:05 p.m.: Magic Carpet
2:20 – 3:15 p.m.: Greg Rockingham Quartet
3:30 – 4:30 p.m.: Brian Carpenter's Ghost Train Orchestra
Millenium Park - Jazz And Heritage Pavilion (North Promenade)
12:30 – 1:30: John McLean: A Tribute To Charlie Christian
2:00 – 3 p.m.: Edwin Daughtery Sextet: Chicago Legends: The Music Of Gene Ammons, Johnny Griffin and Eddie Harris
3:30 – 4:30 p.m.: Pharez Whitted Quintet
Millenium Park - Jay Pritzker Pavilion
5:00 – 5:50 p.m.: Brian O'Hern And The Model Citizens
6:00 – 6:55 p.m.: Tarbaby featuring Nasheet Waits, Orrin Evans and Eric Reed with special guest Oliver Lake
7:10 – 8:10 p.m.: Benny Golson Quartet
8:30 – 9:30 p.m.: Charlie Haden's Liberation Music Orchestra conducted by Carla Bley: Celebrating Charlie
SATURDAY, SEPTEMBER 3
Millennium Park – Von Freeman Pavilion (South Promenade)
Noon – 12:55 p.m.: Steve Schneck Quartet
1:10 – 2:05 p.m.: Alyssa Allgood Quintet
2:20 – 3:15 p.m.: Chris Greene Quartet
3:30 – 4:30 p.m.: Victor Garcia Organ Septet
Jazz And Heritage Pavilion (North Promenade)
12:30 – 1:30 p.m.: Luke Malewicz Heritage Quartet
2:00 – 3 p.m.: Nate Lepine Quartet
3:30 – 4:30 p.m.: JD Allen Trio
Millenium Park – Jay Pritzker Pavilion
5 – 5:50 p.m.: Tatsu Aoki's MIYUMI Project featuring Tsukasa Taiko, Jon Jang & Francis Wong
6 – 6:55 p.m.: Eric Alexander and Harold Mabern Quartet
7:10 – 8:10 p.m.: Anat Cohen Quartet
8:30 – 9:30 p.m.: The Bad Plus perform Ornette Coleman's Science Fiction with Tim Berne, Ron Miles & Sam Newsome, commissioned by Duke Performances at Duke University
SUNDAY, SEPTEMBER 4
Millennium Park – Von Freeman Pavilion (South Promenade)
Noon – 12:55 p.m.: Kendall Moore Octet
1:10 – 2:05 p.m.: Charles Rumback Sextet
2:20 – 3:15 p.m.: George Fludas Quartet
3:30 – 4:30 p.m.: Barry Altschul's 3Dom
Millennium Park - Jazz And Heritage Pavilion (North Promenade)
12:30 – 1:30 p.m.: Erwin Helfer Solo Piano
2:00- 3 p.m.: Norman Simmons Trio
3:30 – 4:30 p.m.: Doreen's Jazz New Orleans
Millennium Park – Jay Pritzker Pavilion
5:00 – 5:50 p.m.: Michael Zerang & The Blue Lights
6:00 – 6:55 p.m.: Christian Scott aTunde Adjuah
7:10 – 8:10 p.m.: John Scofield / Joe Lovano Quartet
8:30 – 9:30 p.m.: Candido's 95th Brithday Celebration featuring M.F. Production's Latin Jazz All Stars Featuring: Candido, Steve Turre, Nestor Torres, Sammy Figueroa, Frankie Figueroa, Elio Villafranca, Yunior Terry, Diego Lopez, Jorge Castro and Guido Gonzalez