Bob Marley: Live In Chicago
I wanted to write a little something for the blog that explored the connection between Bob Marley and the great city of Chicago.  A man of the world, Bob did some seriously globe trotting in his years and spent time living in Europe and touring the world over.  I was curious if there was any particular connection to our city.
I did some googling around looking for ideas and I kept coming across reference to a bootleg, recorded in Chicago on June 10th, 1975, and fairly widely circulated as "Jah Joys and Rainbows", "Live In Chicago" and "Downtown Trenchtown".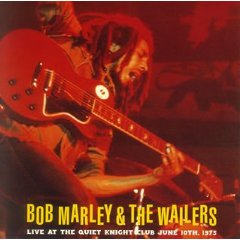 Apparently, this gig was recorded as an XRT Sunday Night Concert  at The Quiet Knight Cub.  There are some samples of the tracks included below.  Its still not clear what Marley had with the city, but he certainly put on a hell of a show here!  A friendly bootleg-liberator uploaded the the entire show here; it is much higher quality than the samples provided here and is definitely worth a listen.
Natty Dread:  [audio:http://tomorrowsverse.com/wp-content/uploads/Bob-Marley-Natty-Dread.mp3|titles=Bob Marley - Natty Dread]
Trenchtown Rock:  [audio:http://tomorrowsverse.com/wp-content/uploads/Bob-Marley-Trenchtown-Rock.mp3|titles=Bob Marley - Trenchtown Rock]
The lineup on this night featured:
Bob Marley - Lead Vocal
Al Anderson - Lead Guitar
Aston "Family Man" Barrett - Bass
Carlton Barrett - Drums
Tyrone Downie - Keyboards
Alvin "Seeco" Patterson - Percussion
Lee Jaffe -  harmonica
The "I Threes":
Judy Mowatt - Backup Vocals
Marcia Griffiths - Backup Vocals
Rita Marley - Backup Vocals
I had never heard of The Quiet Knight before, but a little more research and I found that this was a 60's and 70's era folk and jazz club owned by Richard Harding that originated on North Wells and moved briefly to West Belmont toward the end of its run.  Many superstars got their start here including Bruce Springsteen (as opening act for the Persuasions).  Blues legend Muddy Waters even had a weekly gig at the club.
It is only fitting that the biggest reggae legend in the world also took the stage here.  We are lucky to have the recording to enjoy 25 years later.  Enjoy the tunes and hope to see you on Saturday!