Brown Bag Headlines Martyrs: Recap, Audio & Photos 3/28/13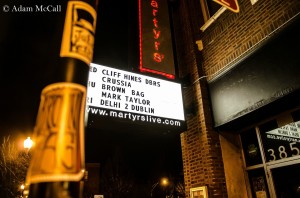 It's always nice to see a local band on the rise.  Brown Bag recently made their headlining debut at one of our favorite venues in the city: Martyrs.
The night opened with the psychedelic folk song titled "Shaky Memory" featuring keyboardist Michael Ellis as well as some "special guest" backup singers, who were featured to commemorate the occasion.  Brown Bag staples "A to Z" and "Baby, Can I Buy You a Beer?" kept the crowd on their toes until halfway through the set when the band unveiled a new song: "Dial Tones" which contains an infectious bass groove by Jack Pieroth.  Guitarist and vocalist David Waterman rhymed over the groove while the crowd got down on the dance floor.
The set ended with a one-two punch of "Olfactory" and "Morning Zoo", with guitarist Dan Cantone capping off the evening with amazing licks and supreme slide techniques. The only cover of the night came during the encore but it was well chosen: "Pepper" by the Butthole Surfers.  The final song of the show was the crowd-pleasing Brown Bag classic "Crushin Man".  All in all it was a great evening for the band and its excited, and growing, fanbase.
Thanks to contributors Mike Manning for reporting, Adam McCall for use of his photo set and sound-man-about-town Gary Jerkatis of OnSound LSR for the audio recording below.  For additional information on Brown Bag visit their website at http://www.brownbagmusic.net