Brown Bag | Interview & Overview
Words / Photos / Video: Kelley Lauginiger - @peapodmcgee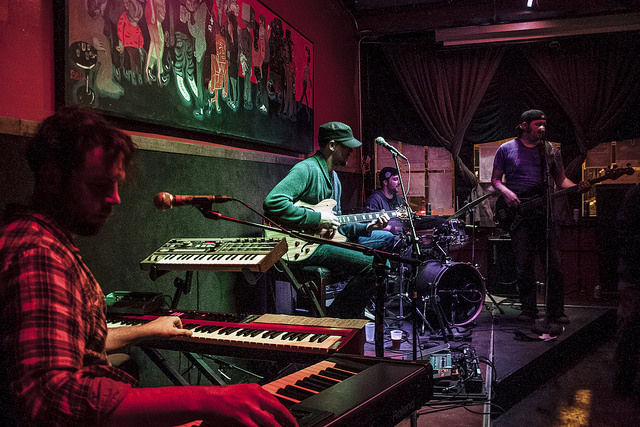 America was founded on forging ahead, taking chances, and maneuvering to the forefront of change.  America has survived, however, on babes, laughs, good beer (or at least lots of it), and good ole fashion rock n' roll.
There is probably no better intersection in Chicago music to embody all of those characteristics than Brown Bag, who headlined a Saturday night of Dunn Dunn Fest as a part of Tonic Room's 12-year anniversary bash.
Atop a bill of three South-side rock bands, Beverly boys Brown Bag delivered a melting pot of old and new, peppered with a few covers for flavor.  Welcomed to the stage by preceding sets from Bluefish Fellows and Juke Shakers, the crowd was pretty thick with Sox fans up in Cubs territory.
That's one of my favorite things about Tonic Room:  no matter who is playing on a given night, the room is theirs.  Maybe it's the size, but it just feels like no matter where you stand/sway, the band playing is giving you a big ole hug.  The room just builds on this feeling of positive energy, and kind of just, surrounds you; spins you and dips you even.  I really feel like moments are created there, in that specific space of imposed intimacy, that couldn't happen elsewhere.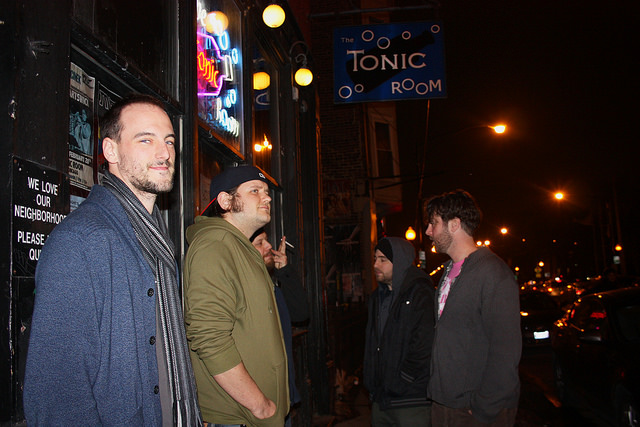 For musicians and folks in the crowd alike, the Tonic Room space really just asks you to be yourself.  With communal spaces, a bar traversing the entirety, and really "nowhere to hide," I think it brings out the best in everyone.  Their infamous $5 Old Style tall boy & thimble of well whiskey combo deal has also proven to "hide nothing," but have not always brought out the best in everyone.  That's ok, I guess. Because we keep buying them anyway.
Before the show, the Brown Bag guys gave us some interview time, and they talked about their new album coming out this year, how they have evolved into a four-piece setup, and mentioned some fellow Chicago bands they'd love to get on a bill with.
One track into the recording process for a new album, the guys say they're ready to share some new material.  After some different combinations over the years, the foursome includes Mike Ellis on keys, Dan Cantone on guitar, Matt Rezetko on drums, while vocalist Dave Waterman has shifted over to bass from his former rhythm guitar role.
The move came organically over time, and I have to say that they sound extremely laid-back and natural with this setup.  Maybe more than ever before.
Indigo Sun, Genome, Woo Park, Mr. Blotto, Old Shoe, and Leadfoot were all tossed around as Chicago compatriots -- there's certainly a ton of respect and collaboration amongst them.
They were really excited about being a part of both Dunn Dunn Fest and Tonic Room's 12-year Anniversary series, and really wanted to thank and praise the hard work by Donnie Biggins (Tonic Room booking) and Nic Nepomiachi (Tonic Room owner).  So much great music is curated there, and the musicians are always taken care of.  It truly is a musician's bar.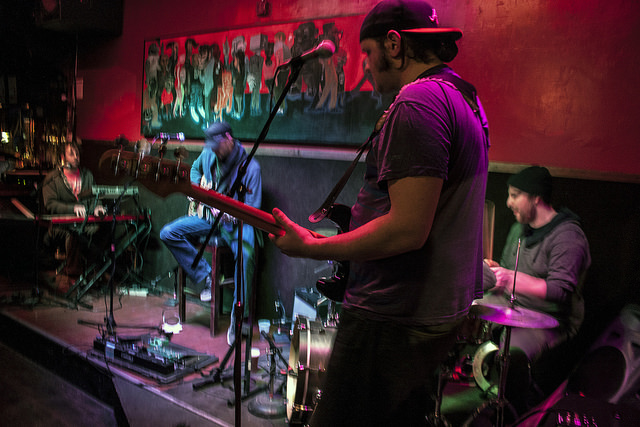 Taking the stage in dainty and feathered Happy New Year's tiaras plucked from the Tonic Room basement, and winding through two sets of Americana-fueled jamfunk, there were plenty reasons for their fans to flash a smile.
The new sound they're putting out is smooth, dynamic, and more funky.  Dave is a really great fit on bass, and wields a giant instrument.
As Rezetko said when we talked, there is a sound for each stage of a young man's life, and "right now as a 27-year old buck in the city, it's time for a four-piece."
Okay, so that was in jest and taken out of context... but I think it's a good point.  I think at different times, different setups have probably worked really well too.  But right now, the Bag guys are just where they should be.  Well, as long as they're in the studio.  We wanna hear the full production, fellas.
Setlist:
Morning Zoo
Over Again>
Hot Ketchup
Shaky Memory
Star Man>
Something About A Ghost
Dell
Fool For You
Down on the Floor> Jam>
Soul Stan>
Doc pt 2
Bennie and the Jets
Come Catch Her
Almost Artesian
Get Out of My Life
She Spoke
Dog Days