Chicago Couple Follows Tragically Hip for Their Final Canadian Tour
Words: Robin Zimmerman | Photos (and experiences): Phil & Nancy Duffin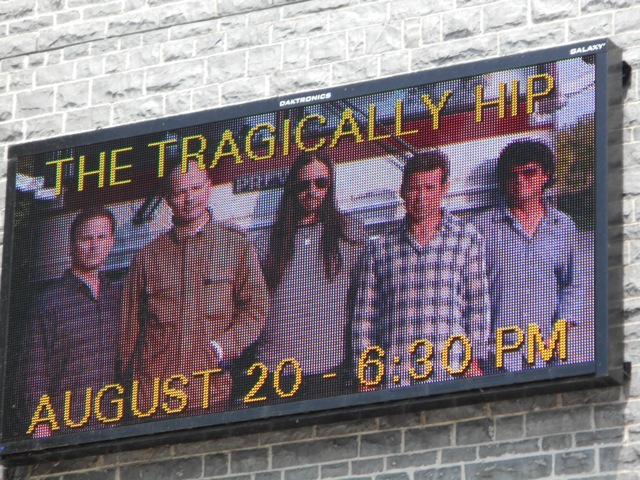 On September 2nd, 2016, all 17 albums released by the Tragically Hip were listed on the Canadian Billboard charts. This was on the heels of a Canadian tour where tickets sold out almost immediately in the wake of the news that lead singer, Gord Downie, had terminal brain cancer.
While "The Hip" might not be a household name here in the states, they have achieved iconic success in their native Canada—even appearing on a postage stamp.
One local couple, and longtime Tragically Hip fans, traveled to Canada to see the band play twice in Toronto, once in Ottawa and were there in the band's hometown of Kingston, Ontario for "The Hip's"" final performance.
What follows are Phil and Nancy Duffin's experiences and images from a once-in-a-lifetime trip that they'll never forget.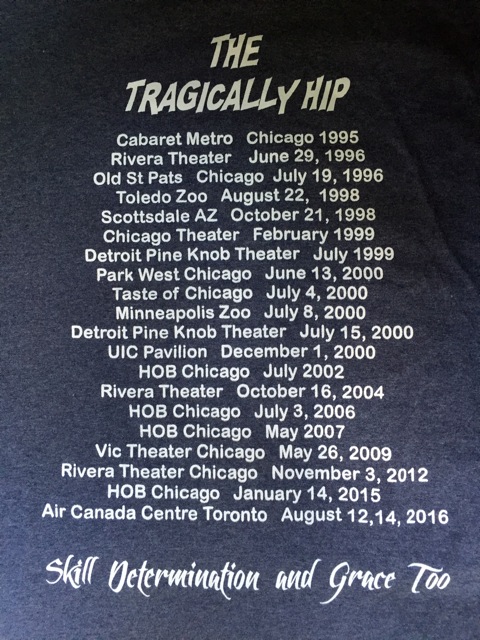 Phil tells me, "After seeing the Hip play more than 20 times in various states and in many small venues, it was time to head up to the Great White North for their final tour. "
We really didn't elaborate to folks in the States about why we were taking this 2,000 mile road trip. We figured we would just get blank stares and "huhs" from friends and co-workers. "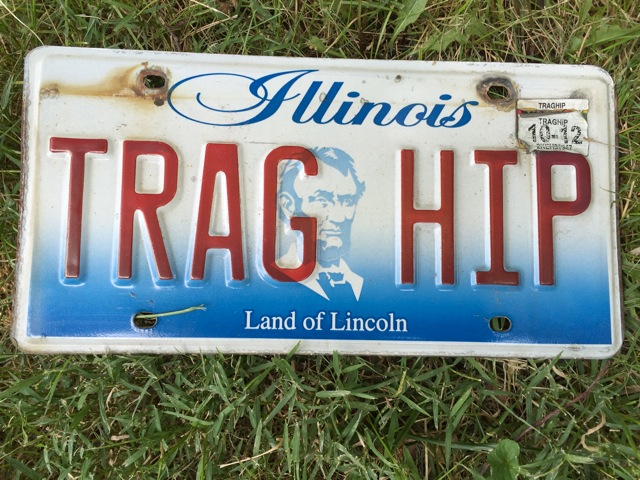 "But, when a stoic customs agent asked what our business was in Canada, we proudly said, 'We got Hip tickets' and even he had to crack a smile. "
Duffin said that Canadian's pride in their native band "that many in the states had never heard of" was palatable.
"We really started to notice it as we walked around Toronto and saw little things like "Courage for Gord" in storefront windows.  The Hip played throughout the day in and out of various businesses."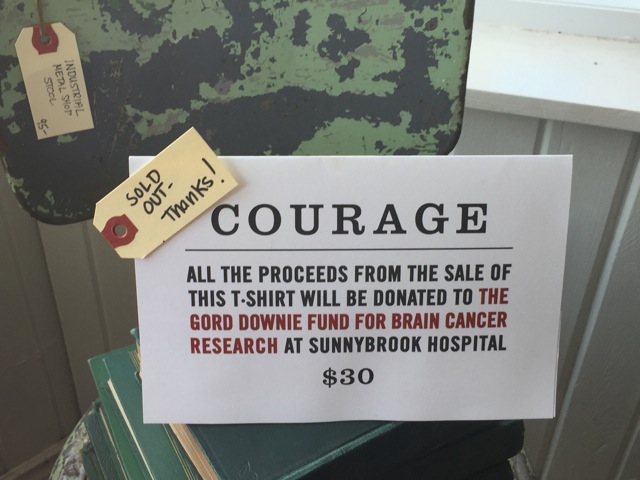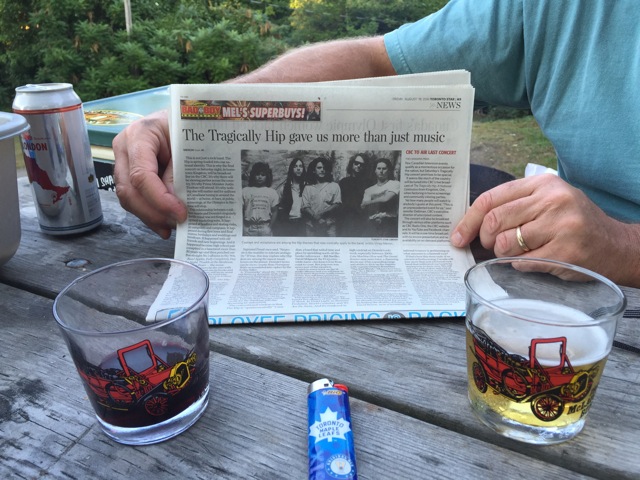 Even an obligatory stop at Tim Horton's yielded newspapers with tales of the Hip's first Toronto Show on August 10th.
August 12th was the second Toronto show. The Duffins would be down in Section 110 "the best set of tickets that we had for the tour." They cabbed it to Air Canada Centre where they saw a "typical concert scene" outside—not much different from what you might see in front of the United Center.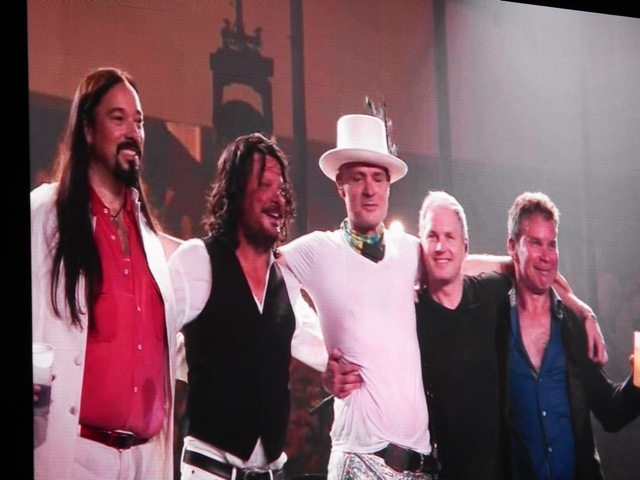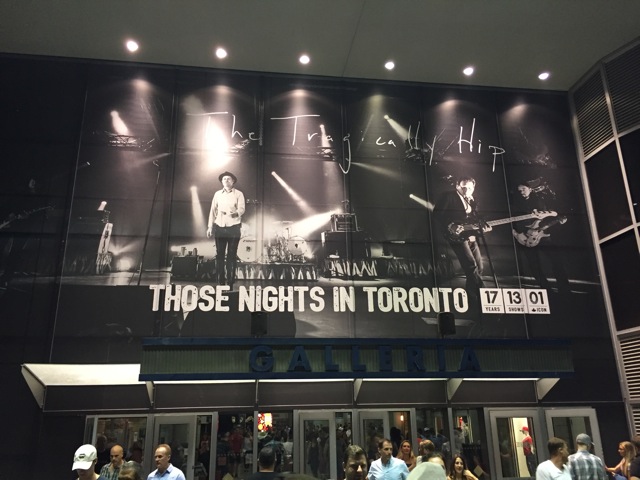 With their ability to capture vivid slices of Canadian life and its inhabitants, the Hip have been compared to Bruce Springsteen. Duffin said that their live performance could also be likened to the Stones "with the engine room from Johnny Fay, and Gord Sinclair" and guitar work that "feeds off of each other" from Paul Langloi and Rob Baker  
Duffin said that lead man Downies' live performance is more 'Iggy Pop than Mick" with a bit of Jim Morrison thrown in. Downie will "ad lib song verses as he sees fit" with the band behind him never missing a beat.
The mood was markedly different for the final Toronto show as "Gord seemed more serious" even as the Hip was cranking out hit after hit. But, thanks to their stage presence and the power of their live performance, "they make you want to see the new stuff."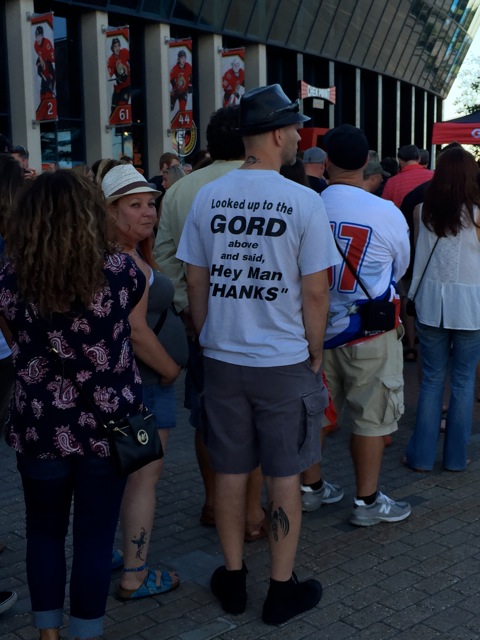 Downies'  condition made for many emotionally charged moments—especially when he belted out the final lyrics of "Grace, Too." Duffin said that "this tune blows the roof off the house every time" and it was especially wrenching when Downie looked out of the crowd and cried, "Him, No."
Duffin said the expression on his face cried out like his "best friend had cancer." which was how everyone in the audience was feeling. It was "one of the most powerful performances that I have ever seen from anyone—and that's because I have never seen a performer in this situation."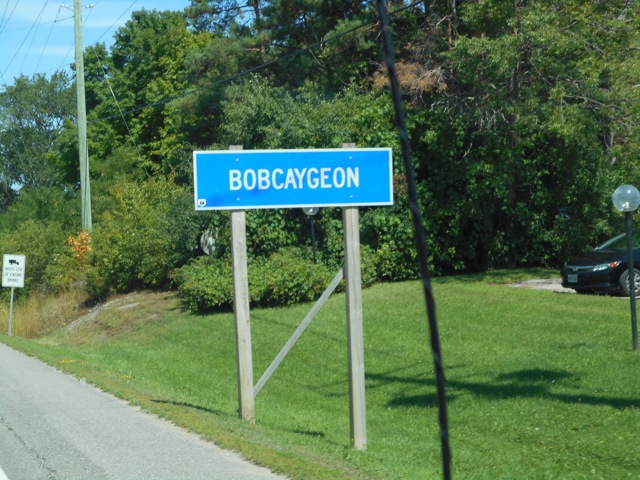 After the close of the Toronto show, the Duffins had a few days to tour around Canada's quaint cottages and idyllic landscape before heading to the Ottawa gig. As they traveled north, they found that the Hip continued to be omnipresent and top-of-mind with most every Canadian.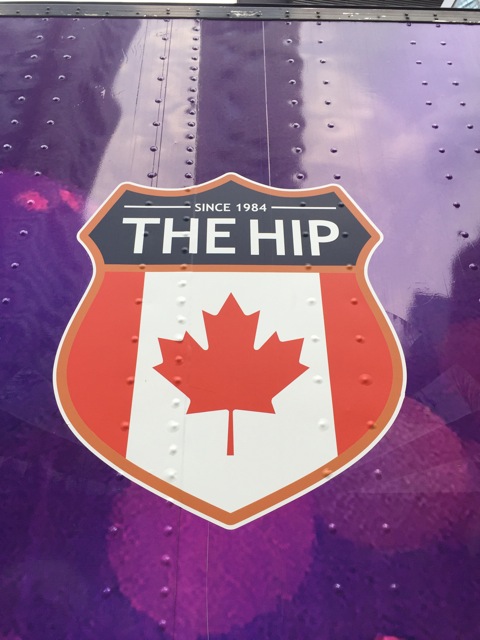 While searching for radio stations in their Chevy Astro Van, they heard CBC (Canadian Broadcasting Corporation) interviews with band members, rare recordings and other Tragically Hip snippets.
This was interspersed between other Canadian news including (it's true!): a maple syrup truck heist. Duffin said the announcer's serious delivery was like "something out of a John Candy on the old Canadian comedy channel, CTV."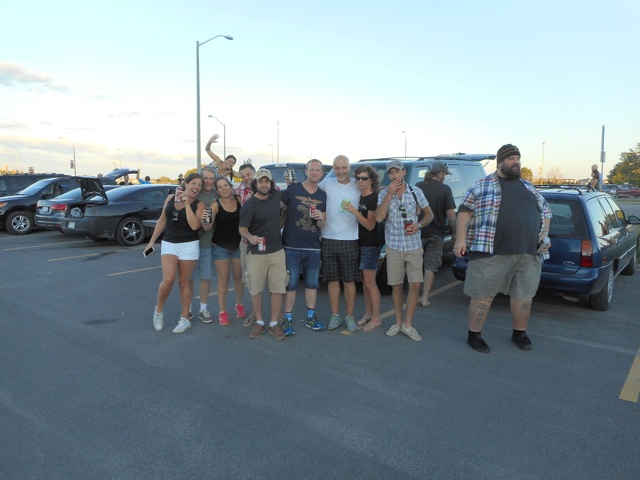 The Ottawa performance was held at the Canadian Tire Centre, home of the Ottawa Senators. Duffin said, "This venue was great because of the lot. You could park anywhere that was open.  With the Hip blaring out of our van, we soon attracted a bunch of new friends for some tailgating."
Stealing a line from the one of the band's signature songs, Duffin said they "enjoyed the show fully and completely" and were the last ones to leave the parking lot afterwards.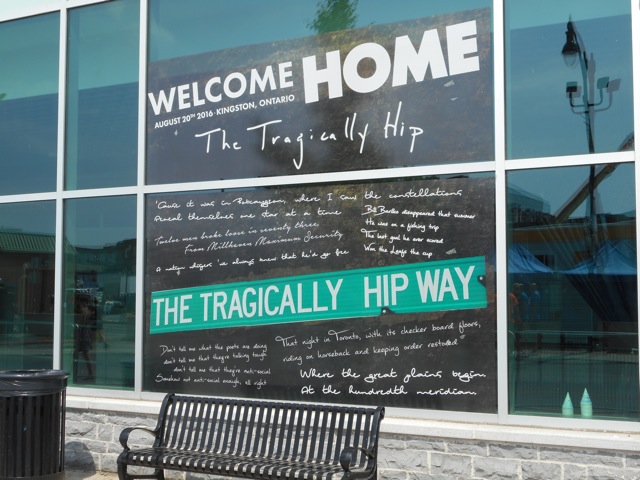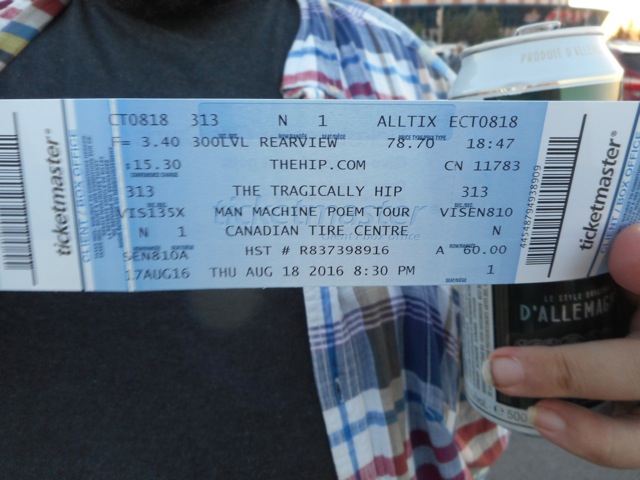 The Hip's final performance was in their hometown of Kingston. The Duffins joined about 20,000 other fans to watch the live CBC broadcast, which was showing in Canada and streaming across the world. It even pre-empted the Olympic coverage. 
The atmosphere in the town was electric and a bit frenetic. City workers were closing the streets in the downtown area when the Duffins arrived. Banners emblazoned with "Welcome Home Boys" were everywhere. There were digital displays on hotel signs and chalk written graphics on sidewalks.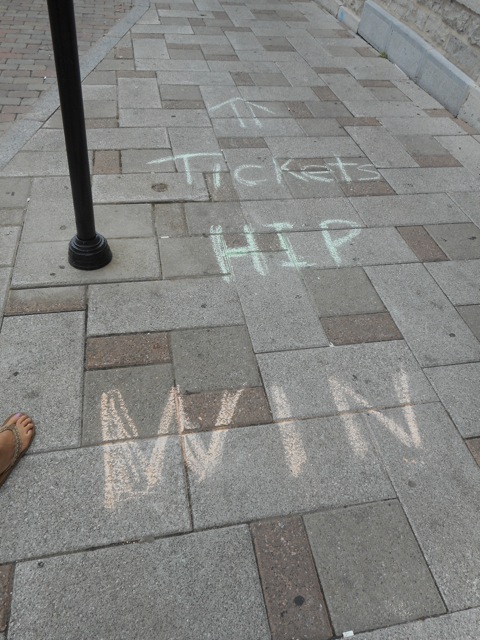 Fans were clamoring to pose under the "Tragically Hip Way" street signs while others marched down King Street with a giant Hip/Canadian flag banner.  The T-shirt truck was pressing t-shirts at a record pace and people were everywhere. Duffin said it felt "like a Grateful Dead show."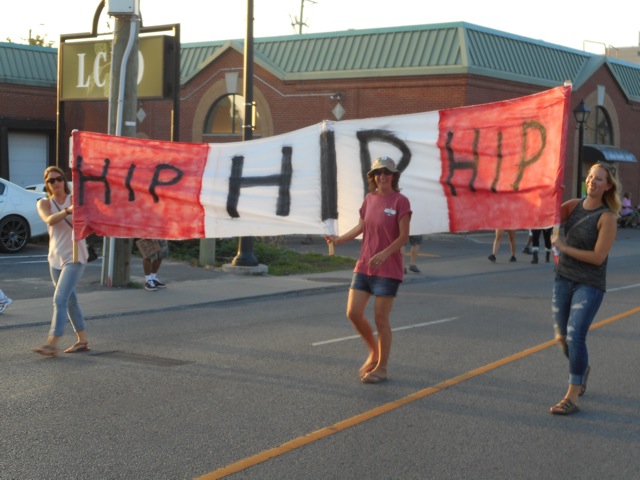 The city of Kingston had declared that August 20th was "Tragically Hip Day" and even Prime Minister Justin Trudeau was there to honor the band.  Duffin said they noticed a presidential motorcade with a mob of photographers and members of the press around it.
When the masses cleared, they saw the Prime Minister walking to the show clad in a Tragically Hip t-shirt and jean jacket.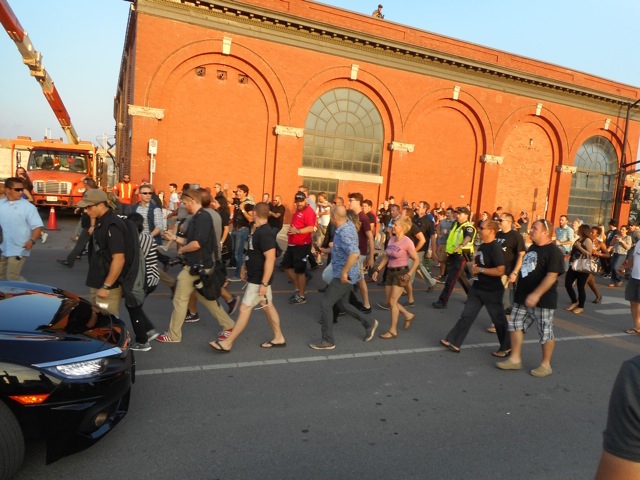 The Toronto Police summed up the mood of the entire country in a single tweet: "Please be advised that Canada will be closed tonight at 8:30 ET. Have a #tragicallyhip day."
When the show began, the Duffins joined the legions of Hip fans in the Market Square Arena for the live feed on the jumbo screen. "As we looked around, we realized that none of these people had seen the show yet. We had just seen three shows. It was their first."
He added that, "It was the best concert I never went to."