Gov't Mule Playing Chicago's Riviera Theater On Halloween 2012 - Jimi Hendrix Tribute
Update 11/1 -- for setlist & video, click HERE
Update 8/29 with pre-sale information; 9/5 with public on-sale info and concert theme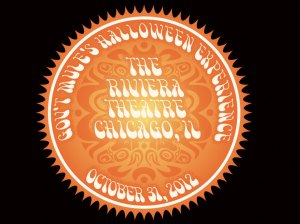 For a man who gigs so much, seems like it's been awhile since we've had a taste of Warren Haynes in Chicago and even longer since we've had the Mule in town.
Well, promoters certainly know how to right a wrong and Warren and crew are back with a big splash for a holiday gig at Chicago's Rivera on October 31, 2012.  As usual, the band is making promises of something special, entitling this gig Gov't Mules Halloween Experience in their newsletter, but without offering additional hints.  Typically, the show poster will clue us in as to what to expect -- we'll try and post it here as soon as it is available (along with ticket information). [9/5] Well, I guess that "Experience" should have been all the hints we needed; this show, of course, will feature a Jimi Hendrix tribute.
[8/29] Presale for Chicago show will be 9/5 @ noon Central Time.  Mule Ticketing Link -- password is TICKET (sold out).   [9/5] Public onsale Saturday, September 8th at etix.com.  Also, opening acts have been announced for nearly all other shows on the fall tour, but not Halloween.  Hmmm?
Here's a taste of what the band has featured on Mule-o-ween in years past (click link on for a stream)
Looking forward to this one.  A fitting Halloween sequel to Panic's triumphant stand in Chicago in 2011.