Greyboy Allstars & Funky Meters Overcome Congress Theater - 4/19/13 [Photos]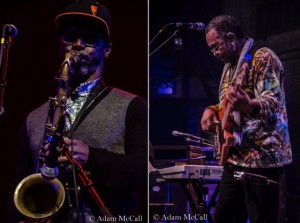 Amidst a pall of uncertainty about the venue -- ticket sales were ordered capped by local authorities -- the show went on Friday night.  The heavy funk of the headliners didn't do much to bolster the Congress Theater's crumbling infrastructure, which was cited for a shocking 26 violations the week prior.
The Congress has played a critical role as one of the only venues in the city that independent promoters can book for mid-sized events, but city officials and even audiences are growing impatient with its conditions.  It is only the wonderful music that is made in this neglected space that keeps Chicago's music fans from writing off the space entirely.
For local promoters Silver Wrapper, pairing a reunited Greyboy Allstars (looking every bit of the distinguished elder statesmen) with the classic NOLA sounds of the Funky Meters (throwing down one last weekend gig before the 10 day bacchanal of the New Orleans Jazz Fest) was inspired to say the least.  The gig was officially a part of the CIMM Fest, Chicago's nascent multi-media, multi-venue answer to South By Southwest.  For local flavor, JC Brooks and the Uptown Sound also played a set.
After the Jazz Fest, The Greyboy Allstars will be starting East and West Coast residencies in support of their excellent new album Inland Emperor -- the record's sophisticated funk was pervasive throughout their set on Friday.  And while The Funky Meters aren't touring behind a new release, the flurry of George Porter Jr. bass bombs were the antidote for a tense week which had the entire nation concerned about the all-too-real kind.
Our man Adam McCall was on hand to document the event with his stunning photography.  Check out the full set below.