Masters Of Sound - Review & Photos of New Mastersounds @ City Winery 6/16/13
Words: @312MRG
Photos: Adam McCall Photography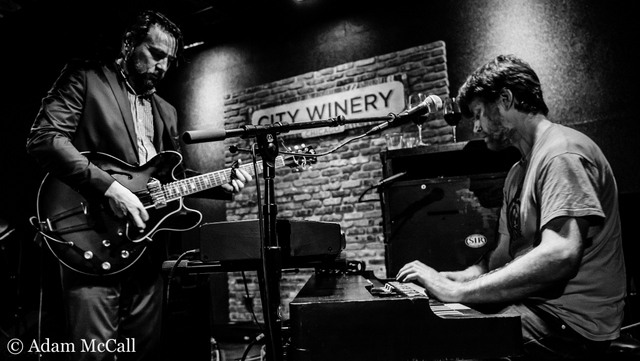 One of the joys of getting to write about live music for this blog is the preparation. Getting myself acclimated to an artist that I only have topical knowledge and appreciation for, requires more than casual listening. While writing, I hope to project grounded and respectful confidence in the subject – knowing that the artists I write about are professionals and this is merely my hobby. I lean heavily on research and one major revelation hit me like a ton of bricks while investigating The New Mastersounds: their work is severely under-appreciated! While first hoping to conduct an interview, and then focusing on a show review, this slowly morphed into a color piece with sprinklings of my findings and dotted textures of thoughts from the group's show at Chicago's City Winery on Sunday June 16th – hoping to paint a complete picture of a band that deserves a ton of love.
My research phase turned up some fascinating articles including great individual interviews in short segments that created some insight into all four members' personalities: Eddie Roberts (guitar), Simon Allen (drums), Pete Shand (bass), and Joe Tratton (keys). While most published material focuses on Roberts' attention grabbing axework, the humor exchanged between all the band mates, especially Allen, evokes a tightly knit ball-busting camaraderie, one that exists with any crew of best friends. This was also evident in the live setting, unfolding with the non-verbal communication occurring on stage, or little the jabs Allen, Shand and Roberts kick one another with during their set.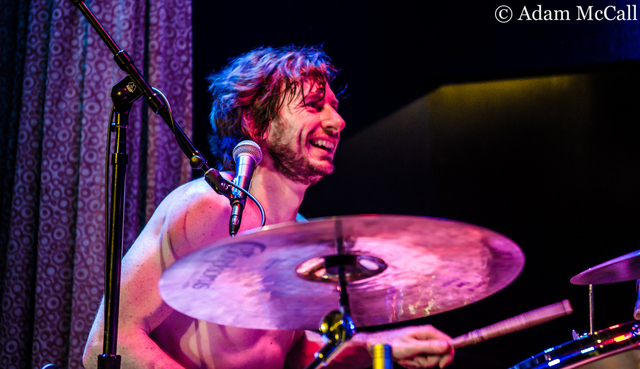 The New Mastersounds are a live act as furious and funkaliciously satisfying as I have seen in probably over 10+ years. This is also roughly the same time NMS has existed, forming in the late 90's in Leeds, UK – one reason they aren't prone to lengthy jaunts around these parts.
Roberts moved to San Francisco about four years ago, while Shand, Allen, and Tratton remain in the UK. Roberts hops the pond, or vice versa, as they traverse countries and combine forces on tours that last 2-3 weeks and generally pop up during festival season in the US. When they get together, they are rarely in a single city for more than a night, making them one of the hardest bands to catch.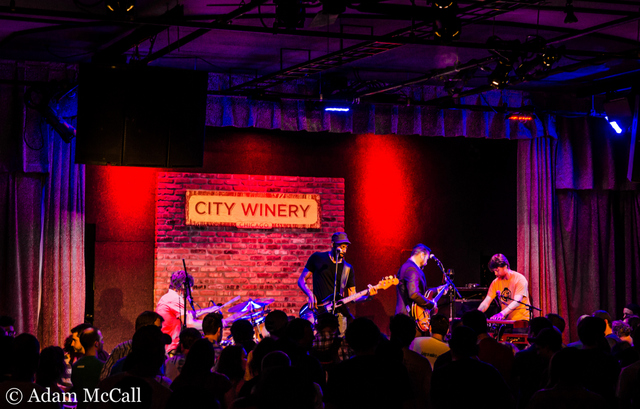 Chicago marked the end of the brief US mini tour that spotted them at multiple stops in Colorado, Rocks Off in New York – capped with an appearance at the Taste Of Randolph Festival in Chicago, as well as the attended late night gig at City Winery. The band also sent representatives to a one-night-only Chicago Super Jam the following night.
With their shows pushing venue curfew limits, one wonders how the hell they find the time to actually travel or generate the energy to engage in side projects and sit-ins. In addition to that Chicago jam with members of Lettuce, Borham Lee and Jennifer Hartswick, Roberts sat in with the Everyone Orchestra while in Colorado and cut a record with Ike Stubblefield in New York.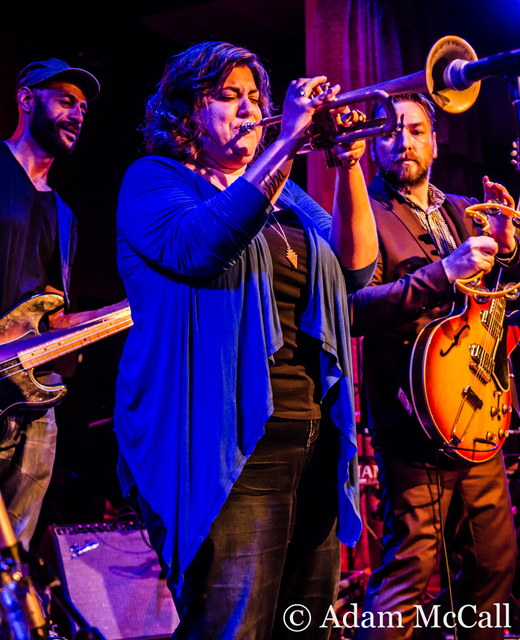 Funk seeps into seemingly every one of my favorite bands, regardless of whether that band is defined by it. The sound I seek is infectious, dirty, raw, soulful and makes you shake—The New Mastersounds tends to max out on all of these elements.
No doubt warmed up from their set that concluded Sunday night's festivities on Randolph Street, they took their gear inside to the cozy and intimate City Winery, a great venue that attracts serious talent at both their New York and Chicago locations.
A short opening set from Swamp Heat kept the energy high from the flow of people that spilled off of Randolph Street and onto the dance floor, including a frenzied cover of Professor Longhair's "Big Chief" to close and set the stage for main event.
Taking the stage shortly after 11:00, the murky depths of funk were plundered from a groove that started from Shand's bass and the pocket of Allen's drum set. These two were a machine all night, setting up Roberts and Tratton's entrances into and out of jams and exposing how tight of a unit this is – thriving on communication from every angle and listening to avoid "stepping on toes". They weaved into out of the spotlight, egolessly, with "You Mess Me Up", "3 on the B" and "Dusty Groove" opening the show. Somewhere in the opening 30 minutes, Jennifer Hartswick stepped onto the stage and dug herself into a groove. Allowing guests to leave their mark on shows is a welcome page borrowed from jazz and funk artists. From Jennifer Hartswick to Zach Deputy to Eric Krasno to Robert Walters, guests are always likely to pop in and pop out of their performances, and there's something awesome about a band that can include high caliber musicians as equally fervent follower as the folks purchasing tickets.
At one point the band rolled into a funky reggae jam and back out of it as seemingly natural as if was one of their tunes. Their catalog is deep and without a whole lot of lyrics, songs seemingly bled into one another. However, the multiple peaks and frantic pace of "Thermal Bad", ethereal multi-genre "Land of Nod" and the building orgasmic climax of "Pure" made me realize that this band is so much more than just a funk dance party.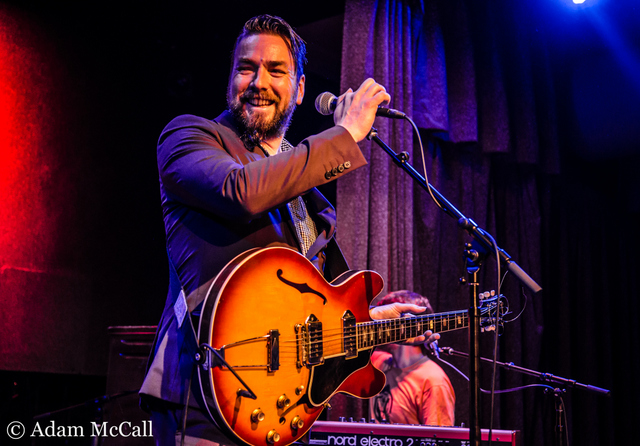 Eddie Roberts' playing has aptly earned him the nickname "Roughneck." It's a mixture of Hendrix and Grant Green, and while he may not get to Jimi's psychedelic realms through use of effects and pedals, he is a guitarist capable of making your jaw drop as he mentally lobotomizes you. He routinely drew me in with funk riffs that built around a chugging swirl of bass, drum and organ, only to drop into one of those face melting solos that leave your limbs numb. But funk is so much more than a great guitarist. The pocket the rhythm section constantly created for Roberts and Tratton to solo over also demands attention.
Advice for those who find themselves able to catch an NMS show: Rest up. Stretch. Grab space to dance. Clear your calendar for the next day. But whatever you do, don't miss them if they come through your area.