My First Widespread Panic Show: Thoughts, Memories & Remastered Audio From 5/8/97 Sixteen Years Later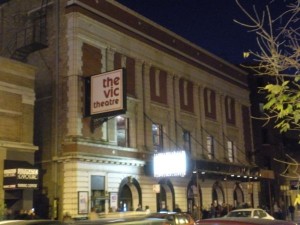 Note: I originally started writing this last year for this show's 15th anniversary, but couldn't squeeze it out on time.  Alas, here it is a year later.
This post is to commemorate an anniversary, but the anniversary that was on my mind on May 8, 1997 was the 20th birthday of one of the most celebrated Grateful Dead shows of all time.  In fact, the Maxell XLII of that show was queued up on my Walkman as I rode my bike around Chicago on unseasonably warm spring day prior to my first Widespread Panic show that evening.  Thinking back on that day, sixteen years later, I think it's appropriate that these two shows will be forever linked in my mind.  The experience was an incredible introduction to the band, and the show is one that stands the test of time and should be considered among their best.
First, it should be known that this was no ordinary show.  It was the add-on free concert at the Vic (the public show was the next day at the bigger Aragon Ballroom) to celebrate yet another anniversary: the 25th year of Chicago's finest rock radio station 93.1 WXRT.  Today, contests and ticket giveaways are coordinated mostly through a websites and social media outlets.  In 1997, there were a variety of options, all of them required a bit more work than just clicking a link and typing your address.  There was a mail-in component, call-in contests and my personal favorite the "Panic Attack", where the station would sound an alarm and announce a random location in Chicago... it was up to you to get your Panic-loving ass to wherever in the city the radio station had designated to claim your free tickets.  Also, it seemed, the band had given away a bunch to friends and family.  The result -- the audience here was hardcores -- and the band was primed to deliver for them.
So what was I doing at this special gig for my first show?  In the mid-nineties I was in the midst of a self-directed jamband immersion program.  I had been a fan of Panic's recordings, but their prior visit to Chicago (on Halloween) found me nearer to their home base, in Atlanta for Phish.  Therefore, I was just determined as hell to get into this show.  Some friends and I had scored some tickets after carpet bombing XRT's mail in option.
I was also hoping to enter other brave new worlds.  The week prior I had taken shipment of my first piece of field recording equipment, and this was primed to be my first show as a taper (actually, a "patcher") with a Sony D8 DAT machine, and was dying to give it a test run.
So for a first show, you couldn't ask for a better set of cover songs.  Anchored by Traffic's "Low Spark of High Heeled Boys" and Funkadelic's "Maggot Brain", these are the perfect combination of superb , under-the-radar choices  that really suck in a newbie, and finding out that they weren't exactly heavily rotated WSP tunes was icing on the cake.  Of course it didn't hurt that "Maggot Brain" segued so nicely into what remains one of the crown jewels in Panic's repertoire, "Chillly Water" and that the whole sequence (and even more in the second set) featured frequent collaborator David Blackmon on the rock fiddle.
But from a pure musical perspective, the pre-drums segment of  "Tie Your Shoes > Sleepy Monkey > Tie Your Shoes > Vacation" is the essential core of this show.  The whole sequence just seemed to emerge fully formed, with languid Mikey leads and dynamic JB vocals taking turns yielding to each other.  Of course, I had no way of knowing that these were three of the most underplayed originals in the Panic repertoire, but it is definitely something that draws me back to this recording again and again.  That run of tunes served to elevate a second set that is bookended by more pure Panic classics and capped off with the punchy, crowd pleasing "She Caught The Katy" as an encore.
My second show was the very next night and also had some nice highlights, but this one stands out, all these years later as one of the band's finest.  I've long since turned in the DAT gear and that first tape is God-knows-where, but it wasn't hard to find this remastered soundboard recording which makes revisiting that night even more worthwhile.  Have a listen....
The Stream