New Spotlight Show: The Paradise Waits "All Jerry Show"
The Barn is happy to announce it's latest spotlight show, not only because it features a band we've been following closely for quite some time, but also because the band is turning this particular gig into a very special event.
Paradise Waits is earning a reputation as the most consistent Grateful Dead inspired band in Chicago. They always bring the party wherever they go, especially their standing Wednesday night gig at McDunna's in Chicago, whether it's with the Dead, Phish, Allmans or even a couple of original tunes. For their upcoming Friday show at Brixie's, they are coming to town with a theme for the evening.... an "All Jerry Show", guaranteed to make this performance one to remember.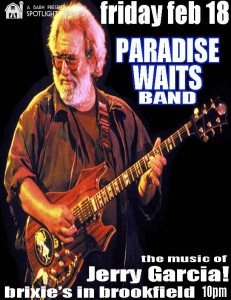 But I suppose it begs the question...  What exactly will the "All Jerry Show" consist of?  A Dead style set that eschews Bobby, Phil ans others' songs in favor of the fat man's oeuvre? What about covers that the Dead played?  Which are fair game?
When I first heard the concept, I'll admit that my thoughts turned to JGB style set.  And not just any of of the many Jer-led bands, but the Melvin Seals, Gloria and Jackie juggernaut that served as his main solo band for years.
At times, this ensemble could essentially be the world's best rock and standards cover band: Motown, jazz and traditional tunes were all fair game to be interpreted through Jerry's encyclopedic musical brain. You'd likely get a little bit of everything, but with big man's phrasing, voice and guitar heroics, these versions were special -- like Hendrix covering "Watchtower", Jerry could make the songs his own. And who could not look forward to an evening that featured a Jerry style take on The Bard?
But the JGB did also explore the Jerry solo catalog as well.  Some tunes from his solo output never did make their way to the Dead repertoire ("Run For The Roses", "Cats Under The Stars") but others lived happily in both worlds, most notably "Deal" and "Sugaree" but also the fine story song "Reuben and Cerise".
Reuben & Cerise
Diving deeper still, think of the possibilities if we opened up the Jerry Garcia Acoustic Band as source material for an All Jerry Show. Let's not forget the fruitful and spirited collaboration with David Grisman, from Old & In The Way to their outstanding 90's output, Jerry and The Dawg covered ground as diverse as bluegrass, gypsy jazz and their own unique Grateful Dawg music.
As long as we're giddy with possibilities, I'll toss in some free jazz from the Jerry Garcia / Howard Wales album Hooteroll?....
And how about the funk?  Legion of Mary is the gold standard here with Merl laying down the sweet organ on a "Boogie On Reggae Woman" or a slow burning "Wondering Why" with Jer building up some peaks.  For grins, I'll also put a request in for a tune from the oft forgotten 78-79 sextet, Reconstruction, that could lay down quality horn based funk with the help of trombonist Ed Neumeister.
I'm pretty sure PW won't roll into Brookfield with a trombonist in tow, but in any case, it is sure to be a great night with plenty of surprises.  Come on out and see for yourself.