News Bites: After Brunch Barn Dance, Shoe Fest 2012, Camp Terrapin
Looking for some family fun this weekend? There will be plenty of bluegrass fun for kids and grown-ups alike this Sunday at one of our favorite places, Fitzgerald's in Berwyn, hosts the 5th Annual After Brunch Bash and Barn Dance with Sunnyside Up and The Teflons.  The bands are led by Colby Maddox and Barb Silverman, respectively, both instructors at The Old Town School of Folk Music.  The event is all-ages, $12 for adults and $2 for kids at begins at 1 p.m.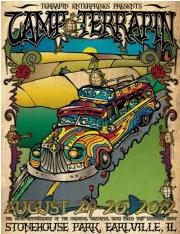 Field Trip Festival is transforming in its third year.  At the request of the Kesey Family, they are dropping the name "Field Trip Festival", so the family can mount their own Field Trip commemorating the 40th anniversary of the 1972 Creamery Benefit in Oregon.  Meanwhile, our Midwestern offshoot, hosted by Terrapin Flyer, will become known as Camp Terrapin, and also make a switch to Stonehouse Park on August 24-26.
Shoe Fest will make a run at a second year at Stonehouse Park in Earlville, IL on September 7-9 this year.  Last year's fest featured cream of Chicago roots and jamband talent, with the guys in Old Shoe acting as hosts, as well as appearances by Great American Taxi, Split Lip Rayfield, and Kyle Hollingsworth.
From Trey Anastasio's show in Pittsburgh on Valentine's Day. Probably the best ever video of him with the Symphony: