Photos: Henhouse Prowlers & Family Groove Company @ Martyrs 11/24/12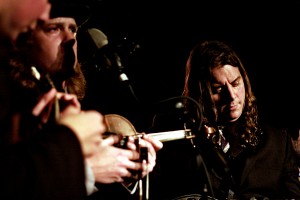 We've got one more update from the action packed Chicago Thanksgiving Weekend 2012. Saturday night at Martyrs featured sets from two of Chicago's very own: Henhouse Prowlers and Family Groove Company.
Each band delivered their own set before coming together at the end of the night for an extended post-encore jam that touched on Phish, Jerry and more.
Mike Kaiz Photojournalism was on hand to capture it all and has contributed another fine photoset. We are extremely grateful.
Family Groove Company Setlist

The Charmer > The Unlimited Space Around Us, Well in Hand, Negresco > I'm the Man Who Loves You, She Might Get Warm, Lily's Hook, Guns of Ticonderoga, Stuck in the Middle With You, White Picket Fence, Wrath of the Solids, Through With Tomorrow

Encore: West Egg Party*

Extended Encore Jam: Poor Heart, Get Outta My Life, I Got My Mojo Working, One More Day

* with Ben Wright (banjo) and Dan Andree (fiddle) from Henhouse Prowlers
[gallery link="file" columns="2" orderby="ID"]