Photos / Recap: Greensky Bluegrass @ City Winery 6/15/13
Let's hand it to City Winery for putting an exclamation point on a wonderful festival.  Moving into this venue for an aftershow just reinforced the class, elegance, and accessibility that makes Greensky's music so welcoming.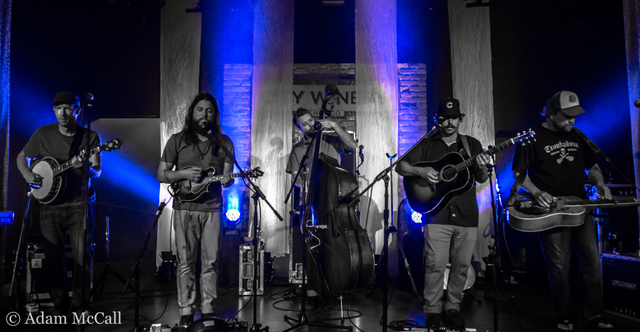 Photo courtesy of Adam McCall see below for complete gallery
Hot off their season opening two night run at their home venue, Bell's Beer Garden in Kalamazoo, anyone paying attention knew Greensky Bluegrass would come to Chicago with some fire.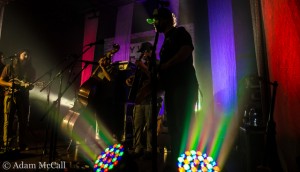 After a fest-closing  set on the main stage at Taste Of Randolph, we'd find out whether they could continue their creative streak after midnight as the party moved indoors.
Enter the special guests.  The late night show featured turns by Umphrey's McGee's' Joel Cummins on the JGB staple "Ain't No Bread In The Breadbox" and Greensky's improvisational opus "Dont Lie" and one of the festival's impresarios, Ghost Unit leader Michael Harrison Berg harmonizing on the tender Dawes tune "When My Time Comes".
So far no audio has surfaced from the City Winery gig, but you have a listen to some of the great covers (including the aforementioned Dawes tune, regrettably without Berg), performed at Bells.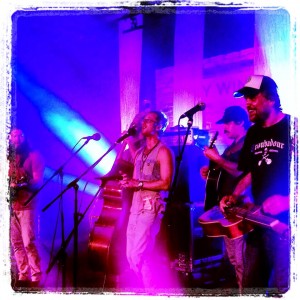 Berg sit-in, photo via GSBG facebook
Stream or download the complete sets here:  Friday - Saturday
We were lucky to have Adam McCall on hand to document the experience visually.  His photos (also be sure to check out his set from the prior night at Bottom Lounge) capture the marriage of this incredible band, talented guests and special venue.
Speaking of special venues.  Greensky Bluegrass will return to Chicago for another Silver Wrapper show  - Lincoln Hall on August 9th.