Preview & Ticket Giveaway | Alex Bleeker & The Freaks Play Dead @ City Winery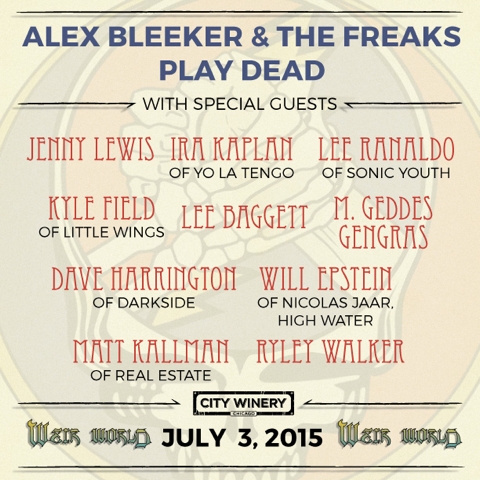 We've had the Alex Bleeker & The Freaks late night gig on our GD50 Show Grid since the announcement of City Winery's Weir World series of pre, during and post-show gigs.
They've promised special guests from the beginning but, oh man, did they deliver.  This is a dream line up for crossover fans of Grateful Dead and indie rock... and they're going to be playing an all Dead set.
Topping the guest lineup are Ira Kaplan and James McNew from Yo La Tengo.  You may remember McNew's nearly hour long "Dark Star" > "Comes A Time" that he played with Bill Frisell last fall so his Dead credentials are current and valid.
Lee Renaldo of Sonic Youth will also join the Freaks.  Check out a little of what he had to say about the Dead recently in Rolling Stone.
I saw the Dead in '73 at Nassau Coliseum, and that same year I saw them at the crazy big Watkins Glen festival. It was just outrageous. It was amazing to see the reciprocity between them and their audience. By the time Sonic Youth formed in 1981, my musical tastes had left the Dead behind, but I was always very proud of the fact that we had three different singers singing individually from different points of view, like the Dead. And their spirit of segueing from songs into open-ended spaces where everybody's playing off each other, listening to each other, and then back into another song was very inspirational to me. These guys were taking song form to new places. And I always hoped Sonic Youth would get around to making a live record with all new songs like Europe '72.
Rounding out the lineup are Kyle Field of Little Wings, Lee Baggett, M. Geddes Gengras, Dave Harrington of Darkside, Will Epstein (of Nicholas Jaar and High Water), Bleeker's Real Estate bandmate, Matt Kallman and Ryley Walker. [Update 6/30] Now Jenny Lewis joins the already stacked lineup!
Video of Bleeker & The Freaks from jambase.com's excellent Songs Of Their Own series.
So… want to see this incredible lineup for yourself? We're giving away two pairs of tickets and entering is simple, but if you want to increase your odds… follow the directions carefully.
1. Send us an email with the subject "Freaks" to info @ tomorrowsverse.com — in the body tell us your full name and the Dead song that you'd most like to see from this collective.
That's it. You're entered. We'll notify the winner on July 1st. But if you want a few extra entries, let's get social…
2. Find the link to this page (or our main contest page) in our Facebook timeline. LIKE it, and tag the friend you'd like to take in the comments — that'll give you a boost. Be sure to LIKE The Barn on Facebook for it to count!
3. Find our tweet about this page in our Twitter timeline. RETWEET it or REPLY with your Freaks song request and that will give you one more boost. Be sure to FOLLOW @thebarnpresents on Twitter.
Can't decide what to see, or just want to cover your bases? Check out some of our other Dead50 Weekend Giveaways.