Railroad Earth Takes 'Outlaws' To Illinois: Photos / Audio / Video
to find themselves in Chicago this time of year
.
This time they came to town with a little more to prove.  Their two Land of Lincoln dates fell on the weekend before Tuesday's official release of Last Of The Outlaws, the band's 10 song volume of new tunes.
And so the focus during these shows was on their body of work.  While interesting cover selections were Chicago show highlights over the past few years, the RRE catalog is what shined during this run.  With the majority of Outlaws finding it's way into one of the two shows, it proved that this new batch had the power to sit alongside some of the most beloved tunes in the repertoire.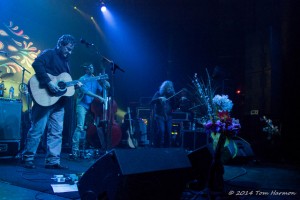 Friday's show at the Vic takes the prize for the jammier of the weekend gigs, with two songs clocking in at over 14 minutes rounding out the final three selections of the evening.
But Saturday at The Castle Theater in Bloomington had a considerable amount of flow and a few interesting segues.  Of note is a nice jam out of "The Hunting Song" which wound it's way into the debut of the John Skehan original "Tuba Mirum".
And, as you'll from the excellent photography of Tom Harmon, the onstage excitement bleeds over into the crowd, who find themselves right at home at these gigs.  Scroll down for complete show streams and downloads via archive.org and a handful of fine videos from the Chicago gig.
Tom's Complete Gallery From Chicago
Tom's Complete Gallery From Bloomington
The Vic
[box type="download"]Download Entire Show[/box]
The Castle
[box type="download"]Download Entire Show[/box]