Review / Photos / Setlist / Stream / Download / Video: Ratdog @ Chicago Theater 3/7/14
Photos: Mike Kaiz Photojournalism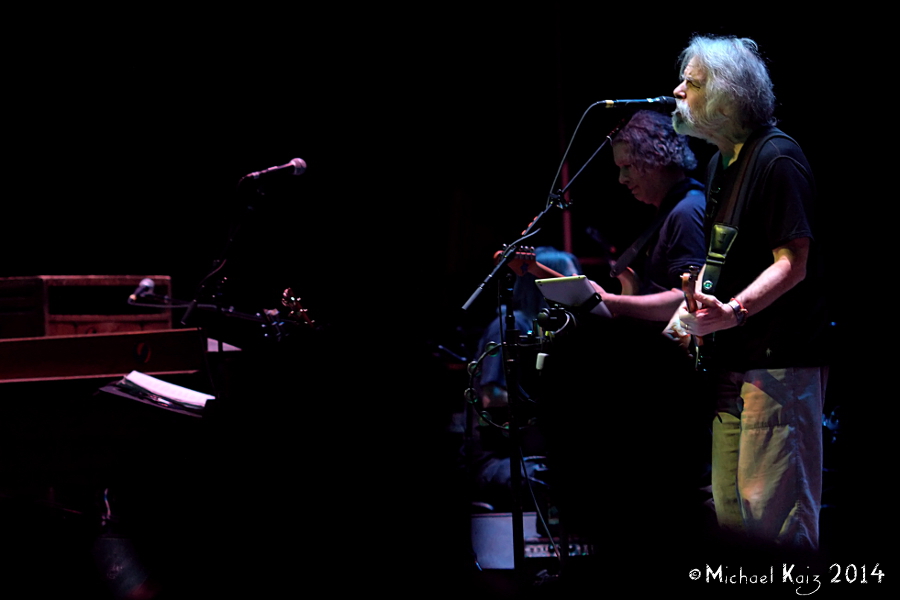 As both Bob and Phil have conspired to avoid Chicago for nearly two years, it was great to see Grateful Dead family rally around Bobby at Friday night's sold out Ratdog gig.
But Steve Kimock was the pope of this gig -- stealing the spotlight again and again, a considerable task, as Ratdog is designed as showcase for every facet of Weir.
That includes the side of Bob I absolutely love -- the psychedelic space jazz cowboy, always making left turns and deploying quirky rhythm and chords to keep you guessing and engaged. That was the Bob who triumphed in the heart of the second set, particularly on "Terrapin Station > "Other One" (and to a lesser extent the "Scarlet Begonias" that proceeded it), weaving trippy improvisational passages out of simple materials and in total control of his band. Had they come out of the gate like this, and kept the pedal down at this level of collaborative, inspired playing, this could have ended up being one of my favorite shows of the year.
Instead, Ratdog also focussed on that other element of Weir's personality, the slightly off-kilter frontman. As a Deadhead, I'll admit to some affinity here, but will also cop to knowing that there are benefits to having a bit more variety on vocals and leadership in Bob's other bands.   But the real issue is that much of the catalog, especially in the first set is executed with a sluggishness that can drag the show down.
There were times even where Ratdog felt more like sit down music, even during ostensible barn-burners like "Johnny B. Goode" and "Not Fade Away".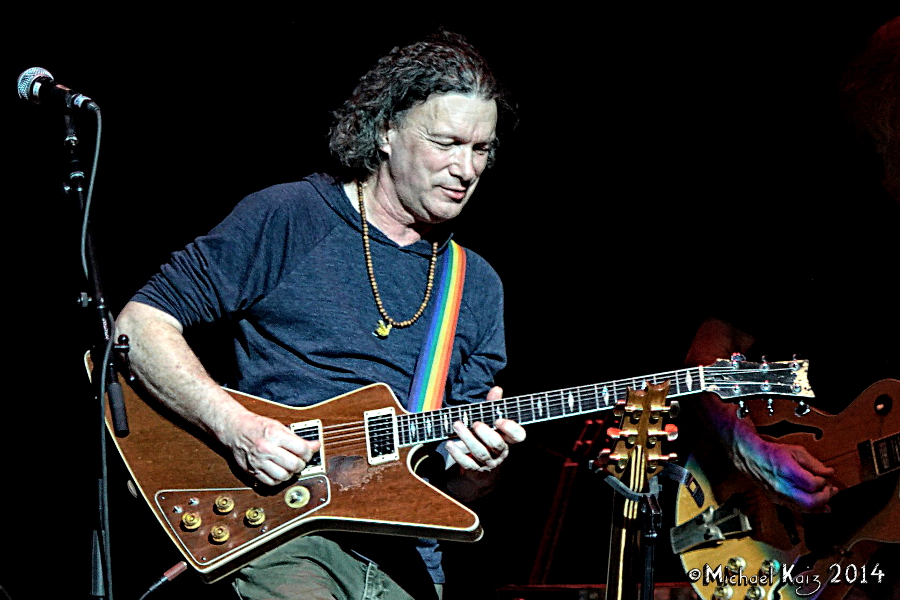 Enter Kimock, whose trademark has always been the remarkable build from quietness into ferocious peak. Just when you thought a plodding "West L.A. Fadeaway" would pass by uneventfully, his solo would come out of nowhere and disturb the peace.  He executed similar "saves" throughout the night… "Easy To Slip", the coda of "Days Between"  That said, as Steve muscled his way into most songs with a dazzling solo, I couldn't help that the talents of some of the other players were better offered during the second set material.
During the first set, it was easy to ignore double bass configuration, as it was low in the mix and paid general service to the song oriented flow. However, during the aforementioned "Terrapin" - as the band opened up and began to explore spaces -- the tone and texture of Rob Wasserman's bowed bass distinguished itself and made for another  interesting sonic element. Robin Sylvester, perched on a stool for most of the night, stood upright at full attention to drop the trademark Leshian bomb in "The Other One", and his play here helped justify his presence for the whole night.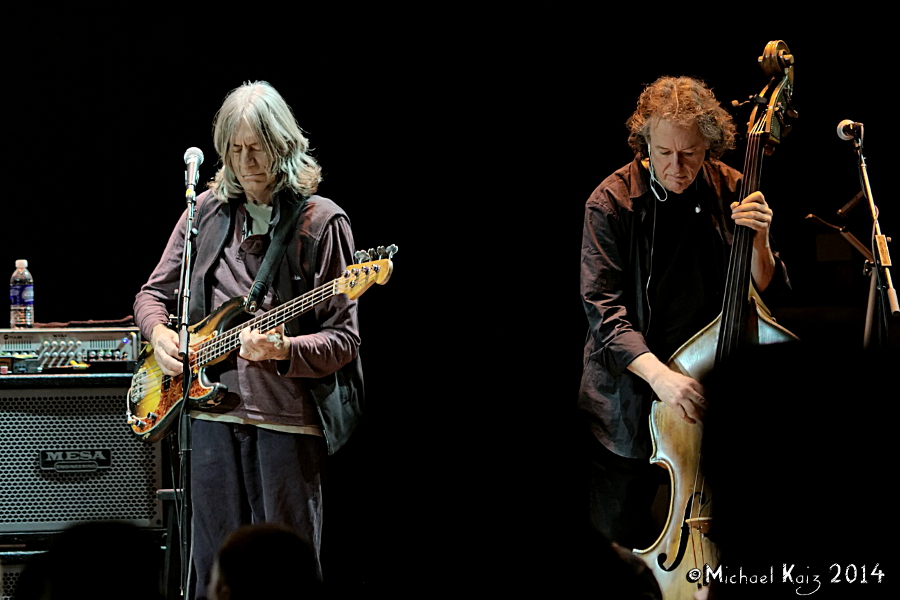 Never without a flash of nostalgia, it also occurred while watching Bobby singing about the bus coming by, that a teenage Bob wrote this song. And it's always important for me to make that connection while seeing ex-Dead members.  That teenager also loved Bob Dylan -- and strange as it sounds is one of my favorite interpreters of The Bard, packing smile inducing versions of "Queen Jane Approximately" and "When I Paint My Masterpiece" in this show.
And of course there's Bob's "other" big influence, Jerry Garcia. The addition of "Catfish John" to the song list was special, as the Old and In The Way and JGB staple, long associated with Jer, was never part of the repertoire of any of Weir's bands.  Yes, he loves him even more than we do, and realizes that's as much as why we continue to gather as any.
Then there were tunes like "Little Red Rooster" and "El Paso" -- songs that even on their best nights with the fat man, weren't exactly show stoppers.
So there's a lot to process with Ratdog and lot of highs and lows.  I loved portions of it, and what I didn't love I appreciated or give a mulligan to.  After all, it's Bobby… what else could you expect?
Setlist

March 7th, 2014
Chicago Theater

The Music Never Stopped > Standing On Shaky Ground > Music Never Stopped, Queen Jane Approximately, Little Red Rooster, Greatest Story Ever Told, West L.A. Fadeaway, Easy To Slip > Supplication

El Paso, Catfish John, When I Paint My Masterpiece, Scarlet Begonias > Lady With A Fan > Terrapin Station > The Other One > Stuff > Days Between, Not Fade Away

Encore: At A Siding > Terrapin Flyer

 
Here's audio stream via archive.org
[box type="download"]Download Entire Show (mp3 .zip)[/box]