Review, Stream, Download, Video: Greensky Bluegrass, Strange Arrangement & Chicago Farmer @ Park West 11/21/12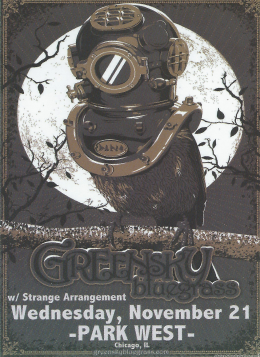 Let's throw some labels around, shall we? If bands can be described as post-rock or post-jazz -- even post-metal -- is it time to start rallying folks around the idea of post-jam?
After the Thanksgiving Eve show at Chicago's Park West, which featured Greensky Bluegrass and Strange Arrangement, I feel that may be the best way to explain what these bands are doing -- offering a new paradigm for a beloved concept, steeped in chops and improv, but carving out a new pathway that reinvents the approach for today's audience.
Truly, a look around the packed room revealed that these fans were not the neo-hippies that you might associate with jam nation. First, they are younger -- a half generation removed from the folks that lifted Phish to arena glory in the nineties. Yes, they came to party -- a well timed balloon drop during Strange's set triggered the type of in-the-moment celebration that only accompanies spontaneous live music -- but they also come to hear top flight music presented without pretense or affectation. At a time where their peers drive headlong into EDM, both bands demonstrated that innovation can also be delivered organically.
What Strange offered so effectively that night was a way to build on the substance -- but sidestep the oft questionable style -- typically associated with the jam playbook. Tunes like "Destinations" and "Siete" certainly contained ample room for keyboardist Joe Hettinga and guitarist Jim Conry to stretch and uncover fresh ideas, but wild unrestrained solos never seemed the point of the excursion. There is no "hey look at me", the band doesn't dabble in antics or distraction, just a full band coalescing around a theme and taking the necessary time to see it through to completion.
Using "Pegasus" from their debut album Side By Side as a launching pad, they were able to weave a improv-laden suite, including an inspired cover of LCD Soundsystem's "I Can Change", that looked to unlikely influences, while still taking risks and yielding extended musical conversation before arriving again at the tune's coda. This is what they will need to do after they return from their brief hiatus -- take the musically challenging and popular aspects of the form into contemporary places.
Bluegrass bands have always had had a special niche in the jam world, and Greensky Bluegrass has stepped up to challenge the dominant notion of the role they play. Their songbook seriously transcends the genre without delving into easy tropes. Leaving aside manic pick-a-thons and party-ready drum-fueled stunt grass, the quintet works best when showering the audience in the warm glow of strings. At the Park West, songs like "Demons" and the newer "Leap Year" were wrapped in sincere, emotive and thoughtful delivery -- even covers like "Second That Emotion" and "Light Up Or Leave Me Alone" contain a gravitas that sometimes eludes bands with much more experience. They are a band that I can enthusiastically recommend to friends who bristle at the idea of a jamband.
But when they dropped into "All Four" -- a standout from Handguns -- their true story was revealed. The jam simply sneaks up on you, a relevant continuation of the song, the strings unwinding gracefully from the vocals . Before you know it 10 minutes have passed and the banjo, dobro and mandolin have chased each other through wide-open spaces, finishing each other's thoughts. The band doesn't rely on flashy solos, but offers long, fluid lines over a subtly shifting tempo, picking up melodic content, passing it around and fleshing it out. Have a listen to "Money For Nothing" from the encore -- nothing jokey or kitschy about translating the 80s Dire Straits classic in the bluegrass idiom. It is a testament to how much respect and they have for what lies at the core of great music.
Stream 11/21 Show
[box type="download"]Download Entire Set (mp3 .zip)[/box]
And every good (post) jam double-bill needs a sit in, right? Mandolinist Paul Hoffman guested on Strange's "The Route" and Hettinga returned the favor later on during Greensky's set. Each seemed to intimately know what was required to round out the other's sound. Not surprising, given that these different sounding bands are both embracing a common wisdom in creating deftly executed and memorable new improvisational music.
Finally, I can't close this review without mentioning Chicago Farmer, who opened the show with a short set of impeccably rendered Midwestern folk music. Perhaps warm-up for two post-jam powerhouses isn't ideal, but he delivered what he always does... truth. And that's something that all three acts on this night were dripping with.