Rock 4 Autism Benefit Promises Jamming Fun For All Ages on Sunday, April 29 @ Cubby Bear North
Rock history is sprinkled with big stars coming together to raise awareness and money for their personal favorite charity or overlooked causes.  It's nice to know that this spirit also carries over to the local level -- on Sunday, April 29th, a host of local bands will take the stage at Cubby Bear North in Lincolnshire for the fourth annual Rock 4 Autism Benefit.
The L.A. Times has recently reported that in a study of 8-year-olds, 1 in 88 has some form of autism, a neural developmental characterized by impaired social interaction and communication.   The analysis, based on a review of tens of thousands of health and school records in 14 states, demonstrates an even greater occurrence than previously reported.  Gia Larsen, the Secretary of the Northern Illinois Center for Autism (NICA), and a parent of a child with autism, recently took some time out to explain a little more about the history of this event and the very worthy cause which it benefits.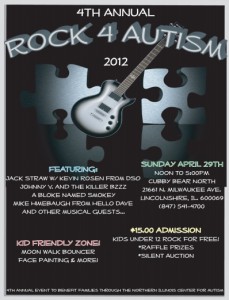 The family-oriented event will take place from from noon until  5 p.m. and features an jam-centric lineup including Jackstraw, featuring special guest Kevin Rosen of Dark Star Orchestra, effectively reuniting two of the principals of the early 90's version of Uncle John's Band (Rosen and Jon Gram).  Mike Himebaugh of the popular Chicago band Hello Dave will also contribute a set. A Bloke Named Smokey, who offered a set chock full of Dead, Phish, & Allmans favorites at the 2011 fundraiser will try to top it for 2012.  Johnny V & the Killer Bzzzz will also perform.
This will be the fourth year of raising money for NICA through the power of music.  Larsen fondly remembers the benefits inaugural year of 2009, "we had over 250 people show up.  It was conceived in February, giving us only two months to organize.  We got it done with the help of my board, family and friends who so graciously donated their time and services to make it happen.  Word of mouth and the word 'autism' in general brings about interest and support. The momentum was there from the very beginning."
"The following year we decided to make it 'kid friendly' by adding a bounce house, face painter, magician and a clown -- we had over 500 people show up!  Last year we moved it to Cubby Bear North and we had close to 700 people come through the door. Each Rock 4 Autism has literally doubled not only in people but also what we raise for the center and the cause!"
Larsen had worked for Chicago area jamband Mr. Blotto for nine years before taking her role at NICA, so when it came time to organize the first Rock 4 Autism, doing a music related fundraiser was a natural fit.  "We started with Mr. Blotto as headliner.  The second year they headlined again, but we added two more local bands, and some additional local musicians -- Mike Himebaugh and Magoo from Hello Dave, Johnny V and David B. Allen (former keyboardist from Mr. Blotto, who also has an autistic son). "  She is very excited about this year's lineup.  "We also have a very special autistic young man coming in from Virginia --  Hunter Bruton -- who writes and performs all of his own music. And new this year, we will be running a live stream from the event that can be seen nationwide...we will have the potential to donate through that site as well."
To attend, a $15.00 donation is all they ask (kids under 12 yrs old are free) for five hours of entertainment, but if you are feeling generous, there are plenty of additional ways to contribute, that may net you some cool stuff as well.   "We have been consistent in raising more money each year," Larsen enthuses. "This year I would like to see us bring  in at least $20,000.  We have 50/50 raffles, high ticket live auction items and a beautiful silent auction.  The money we raise keeps NICA's doors open and allows for the continuing programs we provide to people here in the Northern Illinois area living with Autism."
Music lovers will find music-related artwork, concert tickets, a signed guitar, as well as live private party shows with a couple of the participating bands.  "We have also have an onsite artist who paints live during the show, Elisa Rose Mountain Art is a native Chicagoan who paints along with the music, she turns out an incredible piece by the end of the show which also is auctioned off."  The auction is rounded out by items including carpet cleaning services, dental whitening procedures, boat rides, Cub tickets, wine gift baskets, children's baskets, food baskets, handmade jewelry, and restaurant certificates.  NICA will be happy to accept donations up until Sunday's event.
This should be an outstanding event for all ages -- a chance to get your grove on during the day and do it for a great cause.
About NICA:  Serving well over 1,250 people annually in Northern Illinois and Southern Wisconsin, NICA continues to grow and assist people with autism and their family members. People with autism spectrum and related disorders of all ages and functioning levels of ability are able to receive assistance from NICA. Its members require a variety of services and support, based on their developmental level.  NICA currently provides the following support services: 
guidance to families via mentoring, tutoring and autism technique training to help them understand "What is Autism" and "What to do"?
medical support via dietary counseling and biomedical intervention information
vocational and life skills coaching to our teens and adults with autism spectrum disorders
a variety of support group and social group opportunities to our families living with ASD.
integrative community based programs and speaker presentations
 a nonprofit collaboration to connect families with appropriate services to meet their goals, including therapy services (Speech, Occupational, Physical, Aqua) and Mental Health Counseling