Setlist / Photos / Video / Audio | Mavis Staples Tribute Concert @ Auditorium Theater 11/19/14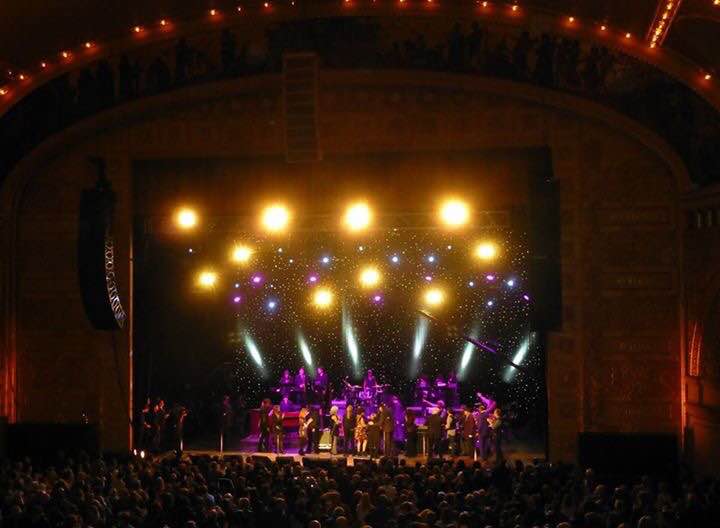 A parade of stars, including many Barn favorites, took the stage with Mavis Staples last night in Chicago in tribute to the living legend for her 75th birthday.  The trusty Wyatt Brake was on hand with his camera and grabbed a handful of shots.
Video of Widespread Panic's two song slot courtesy of YouTuber Adam Huston:
Stream The Show
[box type="download"]Download Entire Show (mp3 .zip)[/box]
Here's the full setlist via the Tribune's Greg Kot.
1 You're Driving Me (to the Arms of a Stranger) – Joan Osborne
2 Heavy Makes you Happy – Keb Mo
3 I Ain't Raisin' No Sand – Otis Clay
4 Woke Up this Morning (With My Mind on Jesus) – Buddy Miller
5 Waiting for My Child To Come Home – Patty Griffin
6 Far Celestial Shore – Emmylou Harris
7 Freedom Highway – Michael McDonald
8 People Get Ready – Glen Hansard
9 Respect Yourself – Aaron Neville with Mavis Staples
Second set
10 Hope in a Hopeless World – Widespread Panic
11 For What It's Worth – Widespread Panic
12 If You're Ready (Come Go With Me) – Ryan Bingham
13 Grandma's Hands – Grace Potter
14 A Hard Rain's Gonna Fall – Bingham, Potter, Griffin, Harris
15 Eyes on the Prize – Eric Church
16 Wade in the Water – Taj Mahal
17 Have a Little Faith – Gregg Allman
18 Turn Me Around – Bonnie Raitt with Mavis Staples
19 Will the Circle Be Unbroken – Raitt, Staples, Mahal, Allman, Neville
20 Slippery People – Win Butler & Regine Chassagne (Arcade Fire) with Staples
21 You're Not Alone – Jeff and Spencer Tweedy with Staples
22 I'll Take You There – Mavis Staples
Encore
23 The Weight – Mavis Staples and the entire cast