Setlist / Photos / Video: The Pod Featuring Dean Ween @ Tonic Room 2/4/14
at Cubby Bear with his Moistboyz
project in December.
On February 4th, The Pod was billed with a VERY SPECIAL GUEST as a part of Tonic Room's 11th anniversary series for both an early and a late show.  Tickets were $35 and available only at Tonic Room.  Guess who it was?
Yup. Deaner sat in for two big (sold-out) sets creating an off-the-wall atmosphere in the tiny Lincoln Park club touching on Ween material from their entire career.
Setlist (via jambase)

Set One: Strap On That Jammy Pack, Piss Up A Rope, Nan, Waving My Dick In The Wind, Gabrielle, Tear For Eddie, Final Alarm, Big Jilm, My Own Bare Hands, Don't Get Too Close To My Fantasy, Back To Bason, HIV Song, Dr. Rock, Mister Would You Please Help My Pony?, Sweet Texas Fire, Spinal Meningitis, Did You See Me?, Sorry Charlie, Buckingham Green

Set Two: Fiesta, It's Gonna Be A Long Night, The Grobe, I Saw Gener Crying In His Sleep, Happy Color Marbles, Johnny On The Spot, Transdermal Celebration, Springtheme, Tried And True@, Chocolate Town@, The Mollusk@, Tender Situation@, Ocean Man, Frank, I'm In The Mood To Move, Booze Me Up And Get Me High, The Wind Cries Mary, Stroker Ace, You Fucked Up, Someday, Captain Fantasy, Don't Sweat It

[Unconfirmed Setlist via drmancala]
Here's Deaner's hand-written stage setlist courtesy of Gary Jerkatis of OnSound LSR, who mixed the festivities.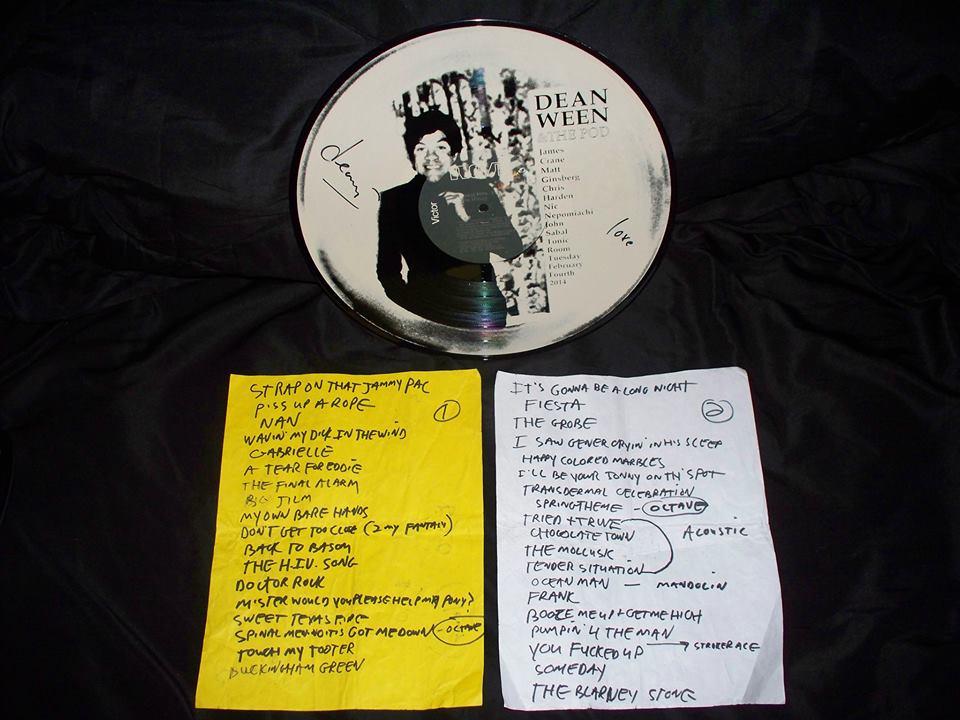 Gregg Gibbs was on hand to shoot some photos and has graciously allowed us to publish.  Looks crazy! A great video of "A Tear For Eddie" and a handful of other tunes have surfaced as well. Scroll down below the photos for embeds.