Setlist / Stream / Download: Sigur Rós @ UIC Pavilion 4/2/13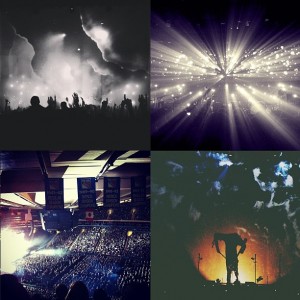 Word of mouth is a great way for me to discover new bands, so it's a little jarring when I realize I find that everybody's talking about a band that was simply never on my radar.  That was the case when Sigur Rós announced their spring tour, the excitement level was palpable, but I was completely in the dark about what these guys were all about.
After finding this recording of last Tuesday's Chicago show, now I know why there's so much chatter.  Remember when Trey Anastasio used the term "music to put on in your car coming home from the show" when describing his tepid solo release Traveler?  Well this is what that should have sounded like.  Atmospheric, orchestral, grand and beautiful.
Setlist
Sigur Rós - UIC Pavilion - Chicago IL - April 2nd, 2013

Yfirborð, Ný Batterí, Hrafntinna, Vaka, Sæglópur, Fljótavík, E-bow, Varúð, Hoppípolla, Með Blóðnasir, Kveikur, Olsen Olsen, Festival, Brennisteinn
Encore:
Glósóli, Popplagið
Here's the complete show streaming in all of its Icelandic glory:
[box type="download"]Download Entire Show[/box]