Setlist / Video | My Morning Jacket @ Chicago Theatre 6/11/15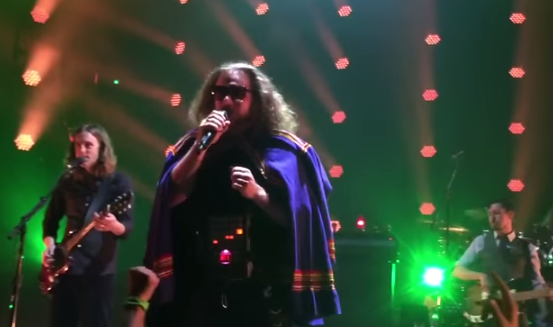 Sixty seven songs over three nights and not a single one repeated.  My Morning Jacket fulfilled
Tuesday night's
 rarity filled promise by extending their catalog list over the course of three nights, dipping into the New Basement Tapes ("Down On The Bottom") for the second time as well.  Here's the song list and six great up-front videos courtesy of 
TommyLaVista
.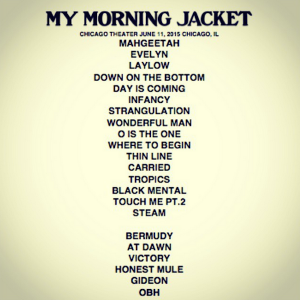 Magheeta
Evelyn Is Not Real
Down On The Bottom
The Day Is Coming
In Its Infancy (The Waterfall)
Strangulation
What A Wonderful Man
O Is The One That Is Real
Where To Begin
Thin Line
Carried Away
Tropics (Erase Traces)
Holdin On To Black Metal
Touch Me I'm Going To Scream Pt. 2
Encore
Bermuda Highway
At Dawn
Victory Dance
Gideon
Honest Man
One Big Holiday
Be sure check out the stream / download of Wednesday's show as well, featuring a 20 minute take on "Dondante".