Review / Stream / Download / Video: The Black Crowes, Tedeschi Trucks Band & London Souls @ First Merit Bank Pavilion at Northerly Island 8/14/13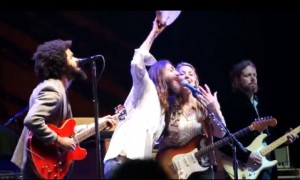 Derek Trucks with a guitar right now is like Miguel Cabrera with a bat. He's doing impossibly great things as a matter of course.  His solos are fluid, dynamic and packed with a mind boggling intensity.
And while I believe that Derek was clearly the superstar last Wednesday night on Northerly Island, make no mistake... the rest of the lineup was major league caliber as well. He plays the humble leader that makes the whole team coalesced towards a common goal.
Along with wife and musical compadre Susan Tedeschi, the couple exemplifies a very Mars and Venus approach.  While Derek demonstrates considerable muscle in just about every solo turn he takes (check out "That Did It" for some masculine oomph), Susan brings a bit of the sweet, soulful and feminine, dedicating the haunting and wonderful "Angel From Montgomery" to dearly departed musicians J.J. Cale, Bobby "Blue" Bland, and George Duke (and taking a turn on "Sugaree" during the proceedings). Their top shelf band hangs with them every step of the way, stepping up for inspiring vocals and fueling fiery horn arrangements -- my only regret is that musicians of such caliber weren't center stage more often.
And the reality is that it's not cheap to bring a 10 pieces on the road, so their very presence is a statement in itself.  It is the result of Derek and Susan striving for a sound, and delivering it through love, respect, and unity.
Combining material from their 2013 release Made Up Mind, with standout tunes from their first album ("Bound For Glory", "Midnight In Harlem"), they also hit a home run with the covers, inviting London Souls' Tash Neal out to lead the ensemble through The Beatles' "I've Got A Feeling" and having Black Crowes' Chris Robinson slip effortlessly into the ensemble on a set-closing Sly Stone medley.
It's a soupy blend of blues, jazz, soul & funk that heals the soul.
Rock and roll can also be a great healer, particularly as delivered by The Black Crowes.  Now, the Crowes were a throwback when they first appeared on the scene over two decades ago so it's hard to say what that makes them now after 23 years of on again / off-again, tabloid headline grabbing, a sibling rivalry played out in public and revolving door members.
That said, the addition of Jackie Greene to the fold is inspired. Even without knowing he's "more than a sideman" (Jackie has a formidable career as a singer/songwriter/recording-artist as a solo act), he brings a personality and elegance to their second guitar foil that stands apart.  He took solos on the long, jammy set piece "Wiser Time" that resonated warmly in the cool Chicago air.
And there's one thing that the Crowes deliver that Tedeschi, Trucks and friends can't quite muster: hits. Their's was a set bookended with the 90s classic rock goodness of "Sting Me", "She Talks To Angels", "Jealous Again" and "Remedy", tunes that really have stood the test of time.   While today's music business only vaguely resembles the machinery that put these guys in the spotlight, it is clear that audiences still hunger for the grooves and punch of a finely written rock hit.  And when the Crowes play these tunes, they leave it all out on the stage, crafting a fierce boogie, punctuated by passionate vocals and squealing guitars.
The night's final jam on "Lovelight" featured everybody from all three bands on stage.  In the final few minutes before the venue's 11pm curfew, all the night's themes were evident: instrumental mastery, a true familial atmosphere, and a taste of rock-and-roll salvation.
Regrettably, I missed the opening set by London Souls (except on the approach to the venue).  The youngest band on the bill, let's hope they can channel this swagger into a career that can keep the candle lit for the next generation.
London Souls opened with a thirty minute set at 6:00.
Tedeschi Trucks Band

Wednesday, August 14th, 2013
First Merit Bank Pavilion at Northerly Island, Chicago, IL

Do I Look Worried, Made Up Mind, Midnight In Harlem, Get What You Deserve, Part Of Me, That Did It, Angel From Montgomery > Sugaree > Angel From Montgomery, The Storm, I've Got A Feeling*, Bound For Glory, Sing A Simple Song** > I Want To Take You Higher**

* with Tash Neal (guitar / vocals)
** with Chris Robinson (vocals / harmonica)
The Stream
[box type="download"]Download Entire TTB Set[/box]
Black Crowes

Wednesday, August 14th, 2013
First Merit Bank Pavilion at Northerly Island, Chicago, IL

Soul Singing, Sting Me, Blackberry, (Only) Halfway To Everywhere, She Gave Good Sunflower, Peace Anyway, Girl From A Pawnshop, Wiser Time, She Talks To Angels, Thorn In My Pride, Jealous Again, Remedy

Encore: Turn On Your Love Light
The Stream
[box type="download"]Download Entire Black Crowes Set[/box]
Videos
I've Got a feeling

Midnight In Harlem

Sing A Simple Song > I Want To Take You Higher

She Talks To Angels

Love Light