Setlist / Video: Vic Mensa wsg Chance The Rapper @ Metro 11/28/14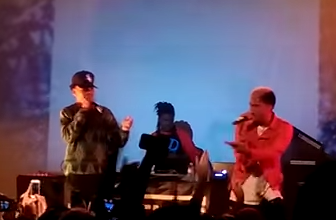 Chicago rapper Vic Mensa has been on the rise since the release of his excellent debut mixtape Innanetape last year.
His recent performance at The Metro found him joined by fellow Chicagoan Chance The Rapper for "Suitcase." The two artists are members of hip-hop collective SAVE MONEY and are both known for collaborations.
Vic Mensa's set also included five new songs performed consecutively and a cover of The White Stripes' "Seven Nation Army."
Check out the setlist and video from the collaboration.
Setlist:
1. Wimme Nah
2. YNSP
3. Orange Soda
4. Hollywood LA
5. Lovely Day
6. I Ain't Trippin' (New song)
7. Going Scotty (New song)
8. Times And Days Of Our Lives (New song)
9. You Mad, Huh (New song)
10. Going To November (New song)
11. Suitcase (with Chance The Rapper)
12. Time Is Money
13. Holy Holy
14. Tweakin'
15. Seven Nation Army (White Stripes cover)
16. Down On My Luck
17. Feel That