Spotlight Show: Paul Abella Trio @ Salt Creek Wine Bar
Who says a jazz band can't play rock music?  Certainly not Paul Abella, who brings his Trio (which of course has four members), to Brookfield's Salt Creek Wine Bar tonight (Friday, July 8th).
It looks like a jazz band...  It sounds like a jazz band...  Abella's polyrhythmic Latin-infused percussion, the fat hollowbody sound of Mitch Corso's guitar, the tonally rich and diverse playing of vibraphonist (!) Stephen Lynerd, and the slinky upright bass of Bob Ferraris.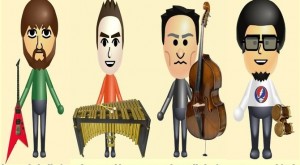 But it's not uncommon to hear the PAT lean their jazz into the rock direction.  Deadheads will be pleased to hear their take on "Dark Star", but don't be surprised if a jazz-inspired take on rock songs anywhere from Paul Simon to Metallica.  Open your ears and your mind, and you're sure to find something that pleases you.  After all, their stated goal is "to make jazz fun again".
We're happy that this band is playing at one of our favorite intimate  rooms in the Western burbs, tailor made for this type of ensemble.  Have a wine flight and settle in for a great night of tunes.