Stream / Download / Video | Umphrey's McGee & Widespread Panic Collaborate In Pittsburgh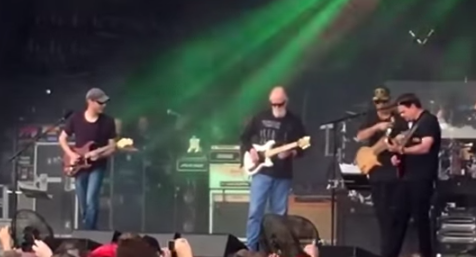 Umphrey's McGee and Widepsread Panic completed a three night run together on Sunday night at Stage AE in Pittsburgh, culminating with some collaborations that went both ways.
UM welcomed Panic guitarist Jimmy Herring, keyboardist Jojo Herrmann and drummer Duane Trucks for a red hot take on The Who's late period classic "Eminence Front".  Thanks to quick archivists YouTuber Chanice Kobolowski and taper Nikres we have video of the jam and audio of the whole set via archive.org.
Brendan Bayliss also sat in for a rare cover of Buffalo Springfield's "For What Its Worth" after JB acknowledged the Father's Day holiday.  Chanice Kobolowski was on the scene for that one, too.  Bayliss, and UM keyboardist Joel Cummins emerged fort the "Me & The Devil Blues" encore as well.
[box type="download"]Download Entire Show (mp3 .zip) via archive.org[/box]
Panic Setlist (via panicstream.com & WSP Facebook)
WSP | June 21 | Pittsburgh, PA
Jam > Holden Oversoul, Tickle The Truth > Henry Parsons Died, You Got Yours, Big Wooly Mammoth, Imitation Leather Shoes, Aunt Avis, Rebirtha > Goin' Out West, Steven's Cat, Papa's Home > Drums & Bass > Drums > Papa's Home, For What It's Worth*, Fishwater (110 mins)
Me and the Devil Blues**, Action Man (14 mins)
* w/ Brenden Bayliss on guitar & vocals (Umprhrey's McGee)
** w/ Brenden Bayliss on guitar; Joel Cummins on keys (Umprhrey's McGee)
[JB wished all the Dads a happy Father's Day before FWIW]