Stream or Download: Herbie Hancock with Jaco Pastorius @ Ivanhoe Theater 2/16/77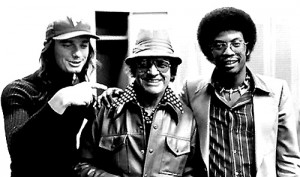 The late 70s found Herbie Hancock as prolific as ever, exploring new directions to take his music with collaborations, solo piano recordings and still more funky jazz releases. Though the 80s would bring his disco-infused, vocoder-heavy pop era, '77 found him simply stretching out the sound of his classic releases.
Add Weather Report's bass mastermind Jaco Pastorius, arguably in his prime, and regular Hancock collaborators Bennie Maupin and James Levi and the show simply can't go wrong.
Opening with Head Hunters classic "Chameleon" the band locks into a slow funk groove courtesy of Pastorius' ever-confident bass. The even funkier "Hang Up Your Hang Ups" follows, allowing the band to really pick up steam. Maupin's sax solo takes lead and maintains the song's intensity throughout.
"Maiden Voyage" gives Hancock the spotlight, Pastorius following his every move. "It Remains To Be Seen" shifts moods constantly to allow each member a shot at soloing, the bass grooves holding the band together.
Though this recording (from an XRT live broadcast) is cut off just as Hancock introduces a new tune, these four tracks are a must-hear for fans of the Head Hunters or Pastorius. This is jazz-fusion at its best.
- Alex Wood
The Stream
[box type="download"]Download Entire Show[/box]