Stream or Download: Keith Jarrett @ Symphony Center 2/12/10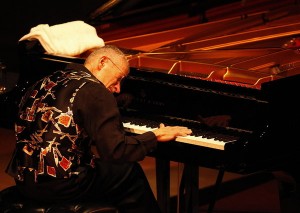 Keith Jarrett is a true mastermind of improvisation on the piano. The performer is infamous for his hatred of distractions, be it coughing, photography or basic noise from the audience, so recordings don't show up as often as many desire.
This set from 2010 shows the pianist doing what he does best, an intense spattering of notes and vocal noises creating frenzied jazz music of the highest caliber.
Though performing over an hour in total, each improvisation remains inventive and inspired, each piece leaning on Jarrett's note-heavy style. Songs range from graceful beauty to frantic intensity. Jarrett subtly switches directions mid-song, discovering new, unexplored musical territory on stage through dynamics and complex melodies.
A solo performance packed with talent and originality, this concert is everything improvised music should be.
- Alex Wood
The Stream
[box type="download"]Download Entire Set[/box]