Stream or Download: Leadfoot @ John Hartford Memorial Festival, Bean Blossom, IN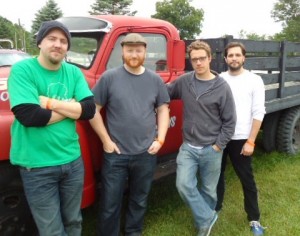 It's not often that I'll feature a recording on this site that was not captured in the Chicago area.  However, Leadfoot is a Chicago-based bluegrass-inspired band that we'd been hearing a lot about and an incredible soundboard festival recording from Indiana found its way into my clutches.
Hit play below and you'll see why they've been generating such a buzz.  If you like  acoustic music with a bit of a kick -- sweet sounding originals and choice covers -- delivered with purpose and prowess, this will be sure to find a place in your listening library.  Their progressive sound integrates a mini drum kit, but doesn't skimp on harmonies and fierce bluegrass breakdowns.  Check out covers of Dylan's "You Ain't Goin' Nowwhere" and Del Shannon's "Runaway" for a taste of how all this comes together on some familiar material.
The Stream